---
Slideshow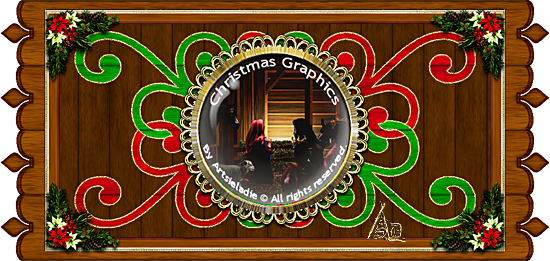 Under construction.
This wiki-page is indexed under Christmas_Graphics-By-Artsieladie.
Note: More images to be added and likely more wiki-pages indexed under this page.


Greetings!
Welcome to the wiki-page for showcasing my Christmas greetings' graphics. Displayed are personalized
examples and dated, making them pretty much useless since it's 2017 now. But if there is an expressed
interest shown, I'd be willing to make some without a date or names. Anyone interested can always simply
message me. All my "new" graphics' around this same theme will be indexed under THIS wiki-page, listed
as clickable links in the Table Of Contents below.

All graphics I display on this site are MY creations, which means "I" OWN the rights to them, NOT this site's
owner OR anyone else, unless otherwise specified, which also means, I give permission to Elfpack members
to use them to decorate their houses and wiki-pages ONLY. For ANY other use of, "my" permission MUST
BE GRANTED!

I enjoy immensely making graphics and even more so when others can get some enjoyment by using them
in compliance with my easy to understand and abide by stipulations but I don't appreciate when some people
just take and use my work without any regard whatsoever for my work, effort, and simple rules.



Please see also:

Total Christmas Images: 06

Table Of Contents

Latest "Personalized" Christmas Greetings:
For specified friends from me:
General greeting note cards from me.

Credits:
Graphics/art created by Artsieladie, aka Sharon Donnelly ©2013 All rights reserved.
About the usage and sharing of my creative works, please read:






For members: DONATE to Elfpack --> <URL:donate.html>, so...


- You can enjoy using Pseudo_HTML colours in your house!


- You can enjoy having the limitations lifted from your house!

For visitors:


- To become a member, click on: http://www.elfpack.com/newuser.html


- Membership is FREE!

Page View Counter:
http://www.hitwebcounter.com/
Artsieladie Online:
Show content


(: Merry Christmas and Happy New Year! :)
~ Additional information ~
Show content
---
The following wiki-pages belong to this index (category):
---
| | |
| --- | --- |
| | Show these comments on your site |