Page name:
Why Donating to Elfpack?
[Logged in view]
[RSS]
2007-04-21 01:12:06
| | | |
| --- | --- | --- |
| # of watchers: 2 | Fans: 0 | D20: 18 |

How To Donate with PayPal
Why Would I Want to Donate to Elfpack?
You want to support [Hedda] and [Sunrose] with running Elftown and Elfpack.
But there's more! You'll get special features for in your Elfpack house!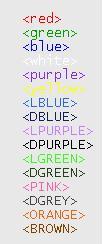 You can use these colours in your house!!!
And You'll get a golden line around your house so everybody knows your a Official Elfpack Donor! And you get access to the Donor Page, and there just MIGHT be something good there!
If you donate $24, then you technically can have unlimited amount of images in your description (but please still avoid to have too many too big images!)
(Page Builder: [Dwemer] Additions made by: [chugnut])
Go or return to:
- How To Donate with PayPal
---