Description:
"The true role of infantry is not to expend itself upon heroic physical effort, not to wither away under merciless machine-gun fire, not to impale itself on hostile bayonets, but on the contrary, to advance under the maximum possible protection of the maximum possible array of mechanical resources, in the form of guns, machine-guns, tanks, mortars and aeroplanes; to advance with as little impediment as possible; to be relieved as far as possible of the obligation to fight their way forward." Sir General John Monash
if u want to talk i have msn and yahoo:
sigmatus201@ho
tmail.com.au
scott_j_n@yahoo.com.au

yankees who hunt check this: http://www.chuckhawks.com/hunting_down_under.htm

When a guy calls you,
he wants to be with you
When a guy is quiet,
He's listening to you.
When a guy is not arguing,
He realizes he's wrong
When a guy says, "I'm fine." after a few
minutes
he means it
When a guy stares at you,
he wishes you would care about him and
wonders if you do
When your laying your head on a guy's
chest,
he has the world
When a guy calls/texts/comments you everyday,
he is in love
When a guy tells you he loves you while holding onto you,
he means it
When a guy says he can't live without you,
he's with you till your done
When a guy says, "I miss you,"
he misses you more than you could have
ever missed him or anything else

if u need to spice up your bedroom fun: http://www.vampsandtramps.com/showcategory.aspx?categoryid=47

"It is not the strongest of the species that survive, nor the most intelligent, but the one most responsive to change."

Famous Motivational Quote by Charles Darwin


I am worth $1,109,000 on www.HumanForSale.com</a>

A white man yells to a black man. "Hey colored boy! You're blockin my view."
The black man turned around and stood up. He then said:
"When I was born I was black,"
"When I grew up I was black,"
"When I'm sick I'm black,"
"When I go in the sun I'm black,"
"When I'm cold I'm black,"
"When I die I'll be black"
"But you sir..."
"When you're born you're pink,"
"When you grow up you're white,"
"When you're sick, you're green,"
"When you go in the sun you turn red,"
"When you're cold you turn blue,"
"And when you die you turn purple."
"And you have the nerve to call me colored?"
The black man then sat back down and the white man walked away...
Post this in your house if you are against raciasim

i will tell you a bit about the back ground
in the nightmare future of the 41st millennium mankind teeters on the brink of extinction. the galaxy spanning imperium of man is beset on all sides by ravening aliens, and threatened from within by malevolent creatures and heretic rebels. Only the strength of the immortal emperor of terra stand between humanity and its annihilation. dedicated to to his service are the countless warriors, agents and myriad servants of the imperium. foremost amongst them are the space marines, mentally and physically engineered to be the supreme fight force, the ultimate protectors of mankind. wars raged over airless moons, in the dark, twisted depths of hive worlds and in the cold wastes between the stars. from the immaterial of warp space, malicious entities send their unspeakable minions to slaughter the chosen every where, soulless spectres and slavering monsters are poised to extinguish the life of humanity
there is no time for peace
no respite
no forgiveness
there is only war

love is great
love is golden
love is made in the back of a holden
if u don't like or get bored
turn into a poof
and get fucked in a ford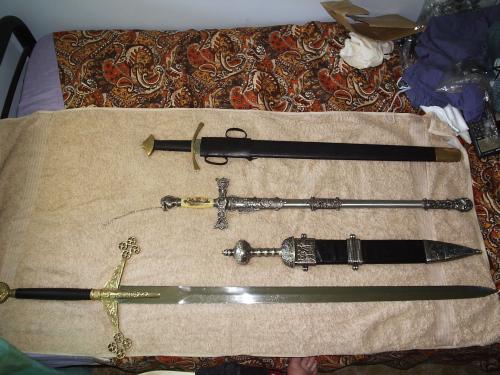 *this is my sword collection the big muther is called a claymore the small roman looking one is roman its called a gladius
the 3rd smallest is a english battle sword and the 2nd smallest i have no idear wat it is*




lesbians rock on!


BELIEFS
Believe in life on other planets?: yup
Miracles?: no
Astrology?:no
Magic?: not really
God? : hell no
Santa?: no
Ghosts?: yup
Luck?: kinda
Love at first sight?: no
Yin and Yang?: well sort of
Witches?: mabee
Easter bunny?: no
Believe it's possible to remain faithful forever?: no science backs me up on this
Believe there's a pot of gold at the end of the rainbow?: nope
Do you wish on stars?: sumtimes

accept any challenge, no matter the odds
O, Emperor, in wrath rejoicing
at bloody wars; fierce
and untamed

whose mighty power doth make
the strongest walls from their
foundations shake

all conquring master of
mankind,
be pleased with this wars
tumultuos roar

delight in sword and fists red with alien blood and the dire ruin of savage battle
rejoice in furious challenge, whose work with woe embitter human life


ROSES ARE RED
GRASS IS GREEN
OPEN YOUR LEGS
AND I'LL FILL
YOU WITH CREAM
SEX IS GOOD
SEX IS FINE
DOGGY STYLE
OR 69
JUST FOR FUN
OR GETTING PAID
EVERYONE LIKES
GETTING LAYED

I NEVER
x means i havn't
(x) I NEVER HAVE BEEN DRUNK
(x) I NEVER HAVE SMOKED POT
(_) I NEVER HAVE KISSED A MEMBER OF THE OPPOSITE SEX
(_) I NEVER HAVE KISSED A MEMBER OF THE SAME SEX
(x) I NEVER CRASHED A FRIEND'S CAR
(x) I NEVER BEEN TO JAPAN
(x) I NEVER RODE IN A TAXI
(X) I NEVER HAD ANAL SEX
(_) I NEVER HAVE BEEN IN LOVE
(x) I NEVER HAD SEX
(x) I NEVER HAVE HAD SEX IN PUBLIC
(_) I NEVER HAVE BEEN DUMPED
(x) I NEVER SHOPLIFTED
(_) I NEVER HAVE BEEN FIRED
(_) I NEVER BEEN IN A FIST FIGHT
(x) I NEVER HAD A THREESOME
(x) I NEVER BEEN SNUCK OUT OF MY PARENT'S HOUSE
(x) I NEVER BEEN TIED UP (SEXUALLY)
(_) I NEVER BEEN CAUGHT MASTURBATING
(X) I NEVER PISSED ON MYSELF
(X) I NEVER HAD SEX WITH A MEMBER OF THE SAME SEX
(x) I NEVER BEEN ARRESTED
(x) I NEVER MADE OUT WITH A STRANGER
(X) I NEVER STOLE SOMETHING FROM MY JOB
(x) I NEVER WENT ON A BLIND DATE
(_) I NEVER LIED TO A FRIEND
(_) I NEVER HAD A CRUSH ON A TEACHER
(x) I NEVER SKIPPED SCHOOL
(X) I NEVER SLEPT WITH A CO-WORKER
(x) I NEVER BEEN SKYDIVING
(X) I NEVER HAVE BEEN DUMPSTER DIVING
(x) I NEVER PUT MY PANTS ON MY HEAD RANDOMLY
(x) I NEVER WALKED IN ON FRIENDS HAVING SEX
(X) I NEVER WALKED IN ON MY PARENTS HAVING SEX
(X) I NEVER HAVE BEEN CAUGHT HAVING SEX
(x) I NEVER EGGED A HONDA CIVIC OR FORD XR8 (SHEIST BOX)
(_) I NEVER LIED JUST TO COVER MY OWN ASS
(_) I NEVER CUT SOMEONE AND MADE THEM BLEED
(X) I NEVER HAD ORAL SEX
(_) I NEVER MASTURBATED

[

~LAYER ONE~

]
-- Name: scott-- Nickname: none
-- Birthdate: 08-06-1989
-- Birthplace: port maquarie
-- Current location: lorne
-- Eye color: blue
-- Hair color: blondey browny colour
-- Height: 6'1 (i think)
-- Righty or lefty: righty

[

~LAYER TWO~

]
-- Your heritage: iris/scotish
-- The shoes you wore today:none
-- Your weakness:a hot girl
-- Your fears: The Unkown
-- Goal you'd like to achieve: get a job as a teacher
[

~LAYER THREE~

]
-- Your most used phrase: no props bob
-- Your thoughts first waking up:
Weekdays -god another boring day
Saturdays ""
Sundays ""
-- Your best physical feature: eyess
-- Your bedtime: 1 o'clock am
-- Your most missed memory:my dad

[

~LAYER FOUR~

]
-- Soda:creming soda
-- Fast food joint: maccy D's
-- Single or group dates: single
-- Addidas or Nike: none
-- Chocolate or vanilla: vanilla im so sick of chocolate

[

~LAYER FIVE~

]
Do You:
-- Swear: yup
-- Sing: yeah but not well lol
-- Take a shower every day: yup
-- Have a crush(es): yes
-- Are you in love: no
-- Want to go to university:no
-- Like high school: no
-- Want to get married: yes
-- Believe in yourself: no
-- Get motion sickness: nope
-- Think you're attractive: no
-- Think you're a health freak: hell no
-- Get along with your parents: lol sumtimes
-- Like thunderstorms: no
-- Play an instrument: nope

[

~LAYER SIX~

]
In the past month...
-- Drank alcohol: no
-- Smoked: nope
-- Done a drug: nope
-- Had sex: nope
- Made out: no
-- Gone on a date: nope
-- Gone to the mall:no
-- Eaten an entire box of Oreos: whats an oreo?
-- Eaten sushi: no
-- Been on stage: no
-- Gone skating: no
-- Made homemade cookies: no
--Gone skinny-dipping: no!
-- Dyed your hair:yup
-- Stolen anything: no

[

~LAYER SEVEN~

]
Ever...
-- Smoked pot, or done any other illegal drugs: nope
-- Had Sex: nope
-- Cheated on someone: yes
-- Had your heart broken: yes
-- broken Someone else's heart: yes
-- Played a game that required removal of clothing: nope
-- Been trashed or extremely intoxicated: no
-- Been caught doing something: yeah
-- Been called a tease: yeah once!
-- Gotten beaten up: yes
-- Shoplifted: nope!
-- Changed who you were to fit in: nope

[

~LAYER EIGHT~

]
-- Do you hope to be married: yes
-- Numbers and names of children: dnt kno
-- Describe your dream wedding:
-- How do you want to die: in battle
-- Where do you want to go to uni: universitiy of new england where else?
-- What do you want to be when you grow up: ancient history teacher or a herpologist
-- What country would you most like to visit: Scotland
[

~LAYER NINE~

]
In a girl
-- Best eye color: brown
-- Best hair color: strawberry blonde or brunette
-- Short or long hair: short
-- Height: 160 180 cm
-- Best weight: average
-- Best articles of clothing: mini skirts
-- Best first date location: don't care!
-- Best first kiss location: " "!!!

[

~LAYER TEN~

]
-- Number of drugs taken illegally: none
-- Number of people I could trust with my life:
-- Number of CDs that I own:10/12
-- Number of piercings: none
-- Number of tattoos: none
-- Number of times my name has appeared in the newspaper: 3/4
-- Number of scars on my body: too many, scaring acne
-- Number of things in my past that I regret: loads!

~~~~~~~HAVE YOU EVER~~~~~~
1Loved someone so much it makes you cry? no
2.Drank? [Yup]
3.Ever gotten dumped? [yes
4.Broken the law? [ no ]
5.Ran from the cops? [no]
6.Stole something? [

yes from school

]
7.Tried to kill yourself? [no]
8.Made yourself throw up?[no]
9.Been in love?[one of the few true child of the shadows]
10. Made yourself cry to get out of trouble? [no]

001: Name: scott
002: Nickname: many
003: Country of living: Australia
004: Birth date: 08/061989
005: Height: 182 cm(i think!!)
006: Eye colour: blue
007: Shoe size: 11-13
008: School/work: neither
009: You smoke: no
010: Hobby's: painting building collecting games work shop products
011: Brothers/Sisters: 2 bros.
012: Relationship: sort of
013: Piercing(s): none
014: Tattoo(s): no
015: Vacationland: new york, new york
016: Are there people you wont reply to? Nah but i will politely ask them to go away
017: Nicest person you met this year: don't there all nice people
018: Person you rather not have met this year: kassie
019: Who would you like to meet: kate
020: Who is it that you admire: karl franz most wouldn't know him
021: Most sexy person(s): kate
022: Favourite Pyjamas: trunks or if kate was wid me nuthing
023: Favourite Car: holden statesman
024: Favourite Movie(s):Kung pow,&many more
025: Favourite Music: rap metal punk rock
026: Favourite City(s): Sydney
027: Favourite Plush: fuk off i don't wear that stuff
028: Favourite Perfume: ""
029: Favourite Magazine: white dwarf/ralph/fhm
030: Favourite sound: the call to arms
031: Favourite TV-series:lost,The OC,zoids
032: Favourite Writer: any person who writes about fantasy
033: Favourite Nickname: behemoth
034: What is on your mouse pad: dont have one
035: What all is under your bed: nothin i sleep in a caravan
036: Favourite colour (S): blue & red
037: Favourite Song ever: "Would u go with me" by josh turner
038: fav song at the moment: see above
039: Favourite Food: maccas
040: Favourite class at school: ancient history
041: Favourite drink: Coke
042: Lucky number:none
043: What do you think that is greatest about yourself: im a nice guy
044: What deodorant do you use: lynx africa or brute
045: Favourite shoes: my no lace ones
046: What time do you go to bed on workdays: dont work
047: What word do you use most: fucken
048: Most romantic moment in your life: never had one
049: Most ashamed moment of your life: hurting girls u have loved me
050: You spend your time rather inside or outside: inside (couch potato lol)
051: What do you do in the weekends: sleep or paint my miniatures
052: What class on school do you dislike most: dont go
053: Your Breakfast: toast & tea
054: What do you really really dislike to eat: any posh food
055: Pets:1 dog, 4 cats,
056: Laugh or dream: both
057: Serious or funny: funny
058: Fast or slow (relationship): depends wot type of relationship and how u feel bout da person
059: You prefer being alone or have relationship: RELATIONSHIP
060: Simple or Complicated: simple
061: Cremate or Buried when dead: cremate
062: Sex or alcohol: still a vigin
063: Stay up late or go to bed early: either depending how tired i am
064: Light or dark? either
065: Speak or Silence: either depending on the situation
066: tall or small woman: close to my hight preferably
067: News paper: port news or the tele
068: Hug or kiss: hug freinds,kiss my girlfreind IF I HAD ONE THAT IS
069: Happy or Sad: happy
070: Life or Death: Life
071: Gig or Disco: disco
072: Left or Right: right
073: Sausages on top, or on the side: huh?
074: hair colour of prefered girl Dark/ red/ Blonde: dark or blonde
075: What would you ask god if you could ask him 1 single question:to ask for a genie
076: you believe in reincarnation: yes
077: you believe in Aliens:yes
078: When you die, what will be your last words? holy shit
079: Does true love exist? yes
080: How many kids would you like to have? 2 a boy then a girl
081: What is the thing one you cant stand: FAKENESS
082: Best feeling: killing somebody with a great sword
083: Worst feeling in the world: having your heart broken
084: What are you afraid of: not having a girl freind
085: Are you an emotional person: sometimes
086: You cry while watching a movie? depends
087: Your goal in life:is to meet kate nd be with her
088: What was the promise you made to yourself at new years eve: dinae make one
089: Who is your favourite artist? wat type?
090: What animal would you like to be reincarnated as? tiger
091: What is the most beautiful part on the female body: face, breasts & butocks!