Name:
Kaylee Lynn McCauley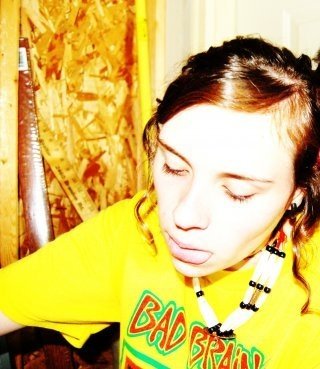 the writing on the wall;;
"all my friends drink alcohol"
i'm too drunk to light the bong.
i'm too stoned to write this song.
and the rattlesnake said "I wish I had hands so I could hug you like a man" and then the cactus said "don't you understand? my skin is covered with sharp spikes that'll stab you like a thousand knives, a hug would be nice but hug my flower with you eyes"
Elfpack titles and orders
Description:
what a trip to hold your hand and tell the cops i'm not 16
jamaca jamaca..
hello, i'm Kaylee, but you can call me dragon
i'm 17 years younge.
I live in Richland Michigan, in between Battle Creek and Kalamazoo.
I love life. I live Life. I breath life.
Music is my passion, my boyfriend, and my master.
I love pokemon, sunshine and friends.
I beleive one mans trash is another mans treasure.
I can party like it's 1967.
I'm an aries with a tarus assendent.

dislikes: music nazis (because I am one, and i want the control) haters, bitchs, DRUNKbitches, Nickleback fans.

"candy came, from out on the island.
in the backroom, she was everybodys darling.
but she never lost her head, even when she was giving head she said,
HEY BABE, TAKE A WALK ON THE WILD SIDE.
SHE SAID HEY HONEY, TAKE A WALK ON THE WILD SIDE."

maybe when i'm older i'll act my age, but i don't think that you beleive me do you?



<center>

MUSIC
**Aerosmith
**The Beatles
**Belle and Sabastion
**Black Sabbath
**Blind Melon
**Bob Marley and the Wailers
**Bright eyes
**Cute is what we aim for
**The Doors
**Dresden Dolls
**Foo Fighters
**GREATFUL DEAD
**Guns N' Roses
**Janis Joplin
**Jefferson Airplane
**Jeffery CUNT star
**JET
**Kimya Dawson
**The Kinks
**Kiss
**Kitty
**Korn
**Kymani Marley
**Led Zepplin
**LOU REED!
**Mickey Avalon
**MSI
**Montley Crue
**Nirvana
**Ozzy Osbourn
**Pink Floyd
**Placebo
**Quiet Riot
**Rage against the Machine
**Red Hot chilli peppers
**Rob Zombie
**Rolling Stones
**Spoon
**The Smashing pumpkins
**SUBLIME
**system of a down
**Tenacious D
**The White stripes
**The Yeah Yeah Yeah's

</center>



i was born to tell you i love you..now isn't that a song already? i get a "b" in originality..



<center>

i don't mean to stare, we don't have to breed...



<center>

drop ACID >not bombs


<center>
]

</center>




<i>

we're just two lost soels swimming in a fish bowl, year after year.


<center>
a friend of the devil is a friend of mine, i get home befor daylight, just might get some sleep tonight.
just living isn't enough, one must have sunshine, freedome, and a little flower
MUSIC=LIFE
ROOTS ROCK REGGAE
"People are afraid of themselves, of their own reality; their feelings most of all. People talk about how great love is, but that's bullshit. Love hurts. Feelings are disturbing. People are taught that pain is evil and dangerous. How can they deal with love if they're afraid to feel? Pain is meant to wake us up. People try to hide their pain. But they're wrong. Pain is something to carry, like a radio. You feel your strength in the experience of pain. It's all in how you carry it. That's what matters. Pain is a feeling. Your feelings are a part of you. Your own reality. If you feel ashamed of them, and hide them, you're letting society destroy your reality. You should stand up for your right to feel your pain." -Jim morrison
and i don't understand why i sleep all day, and start to complain that theres no rain. and all i can do is read a book to stay awake, and it rips my life away but its a great escape.
this mans the shit- [pills]
my little mexican lover- [Shelbyyy :)]


....................................................................................

I'll be with you darling soon, i'll be with you when the stars come falling. i've been waiting so long, to be where i'm going, int he sunshine of your love.
***************************------------------
a million ways to spend out time, when i get back i'll drop a line.

P.S-
i love music.
i've given up on love, but that doesn't mean i've given up on lust.
i'm an aries, which means i only want things i can't have.
I like all kinds of music. especally ska and reagge.
I'm naturally a jelouse person.
I like to be sarcastic, and it can sometimes seem like i'm being rude, but trust me i'm not.
I don't judge people by apperence.
I've always that that "thats what she said" jokes never get old, and they never will!

THATS THE WAY WE GET BYE.


all i can say is that my life is pretty plain, i like watching the puddles gather rain. And all i can do is just pull some tea for two, and speak my point of veiw but it's not sane.
</b>
Missing: </b>
| | | | |
| --- | --- | --- | --- |
| Age: 17 | Year of birth: 1992 | Month of birth: 4 | Day of birth: 6 |
What do you do?:
Being lazy
Place of living:
USA-Michigan
Exact place of living:
richland
Music
| adult pop | alternative | classical |
| --- | --- | --- |
| folk music | grunge | heavy metal |
| jazz | new age | opera |
| punk | rock | techno |
Sexual preference:
opposite sex