Email: drumrdork@adelphia.net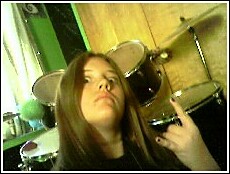 me and my drumset...
ludwig. I have more crap on it now.... just havnt taken the pic.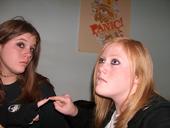 Me, left.... my bestest friend amanda, right
Elfpack titles and orders
Description:
I drum... I'm a drummer. I like acting. I like real ppl I dont like ppl who act like something there not. AKA poser. Do wut you like not what everyone else likes! Make yourself happy not everyone else. Ummm... I'm up to talking to you... but if you dont have anything to say... y bother. I'm NOT up for pervs and cybersex, so stay with your own kinda ppl and leave me alone. thanx.... I can be the funniest, sweetest person or the meanest, hard ass person you ever talked to. It depends on what you do and say.



| | | | |
| --- | --- | --- | --- |
| Age: 17 | Year of birth: 1991 | Month of birth: 4 | Day of birth: 27 |
What do you do?:
Being lazy
Place of living:
USA-California
Exact place of living:
Yucaipa
Music
alternative
goth
grunge
rock
techno
Other interests
animals
art
books
film
religion
theatre
writing
Sexual preference:
opposite sex