I'm a sinner,I'm a Bitch,I'm ME.
Description: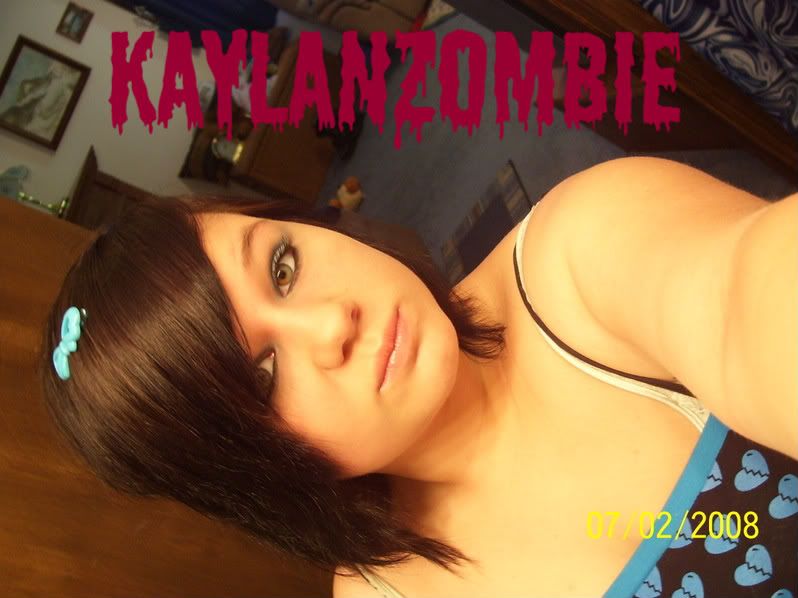 I'm kaylan.You'll fall for me sooner or later ;).I'm amazing and i know it.I love cartoons.I'm bisexual.I live my own life.As should you.I could care less what you think of me.I'm a very blunt person.Dont judge me by what you hear.Take a chance and talk to me i'm really nice.:] I love to talk.I'm not emo/scene/goth anything im simply KAYLAN.I love sitting in the grass.I smile when im sad.I think im cute.;D Music is my life.;)I'm 15.I'm not a virgin nor am i a slut.I smoke weed and cigs.Yes i know im so young thing im so stupid that.I DONT CARE!I'm not dead yet.I'd kill to be a vampire.I love to bite.:DI'm random at times.When i type in my head i talk like a british person its actually funny to me:).But i liek to be silly more then anything.But i can be serious.And when i get mad you will know.I'm VERY open minded.I think strongly about things.But other then that i dont know what else to tell you just ask ill spill my guts to you ;)
My Favorite Bands Are.
Ice nine kills.
[
ESCAPE THE FATE.
]
Good Charlotte.
Insane clown posse.
[
My chemical Romance.
]
Fall out boy.
[
From first to last.
]
Job for a cowboy.
Atreyu.
The Used.
[
Three days grace.
]
HelloGoodBye.
Lil Wayne.
Blink 182.
[
The Red Jumpsuit Apparatus.
]
Evanescence.
Marilyn Manson.
Third Eye Blind.
Plus 44.
[
Head Automatica.
]
Motion City Soundtrack.
AFI.
[
The Killers.
]
MCR.
Linkin Park.
[
The Used.
]
Panic!at the disco.
[
Flyleaf.
]
Alotttt More.