Description:
Me and my best frien on our prom (the right one is me)
The Real Me =
Warmth ||||||||||||||
||||||| 66%
Intellect |||||||||||||||||||||||||||| 82%
Emotional Stability ||||||||||||||| 50%
Aggressiveness ||||||||||||||||||||| 70%
Liveliness |||||||||||||||||||||||||||| 86%
Dutifulness |||||||||||||||||||||||| 78%
Social Assertiveness ||||||||||||||| 46%
Sensitivity ||||||||| 30%
Paranoia ||||||||||||||| 50%
Abstractness ||||||||| 30%
Introversion |||||||||||||||||||||||| 74%
Anxiety ||||||||| 26%
Openmindedness ||||||||||||||| 46%
Independence ||||||||||||||||||||| 62%
Perfectionism ||||||||| 30%
Tension ||||||||||||||| 46%


1. Factor
2. low score
3. high score


1. Warmth
2. cold, selfish
3. supportive, comforting


1. Intellect
2. instinctive, unstable
3. cerebral, analytical


1. Emotional Stability
2. irritable, moody
3. level headed, calm


1. Aggressiveness
2. modest, docile
3. controlling, tough


1. Liveliness
2. somber, restrained
3. wild, fun loving


1. Dutifulness
2. untraditional, rebellious
3. conforming, traditional


1. Social Assertiveness
2. shy, withdrawn
3. uninhibited, bold


1. Sensitivity
2. touchy, soft
3. coarse, tough


1. Paranoia
2. trusting, easy going
3. wary, suspicious


1. Abstractness
2. practical, regular
3. strange, imaginative


1. Introversion
2. open, friendly
3. private, quiet


1. Anxiety
2. confident, self assured
3. fearful, self-doubting


1. Openmindedness
2. closeminded, set-in-ways
3. curious, exploratory


1. Independence
2. outgoing, social
3. loner, craves solitude


1. Perfectionism
2. disorganized, messy
3. orderly, thorough


1. Tension
2. relaxed, cool
3. stressed, unsatisfied






Girl: Slow down. I'm scared.

Guy: No, this is fun.

Girl: No, it's not. Please, it's too scary!

Guy: Then tell me you love me.

Girl: Fine, I love you. Slow down!

Guy: Now give me a BIG hug.

*Girl hugs him*

Guy: Can you take my helmet off & put it on yourself? It's bugging me.

(In the paper the next day)

A motorcycle crashed into a building because of break failure. Two people were on it, but only one survived. The truth was that halfway down the road, the guy realized that his
breaks broke, but he didn't want to let the girl know. Instead, he had her say she loved
him & felt her hug one last time, then had her wear his helmet so that she would live even
though it meant that he would die.




One night a guy & a girl were driving home from the movies. The boy sensed there was something wrong because of the painful silence they shared between them that night. The girl then asked the boy to pull over because she wanted to talk. She told him that her feelings had changed & that it was time to move on. A silent tear slid down his cheek as he slowly reached into his pocket & passed her a folded note. At that moment, a drunk driver was speeding down that very same street. He swerved right into the drivers seat, killing the boy. Miraculously, the girl survived. Remembering the note, she pulled it out & read it. "Without your love, I would die." REPOST IF YOU CARE ABOUT SOMEONE





so sweet..guess I would that to, well I won't eat them but I will hurt them :p


[

series 1

]


Name: Vivian
Birthday: August 23th
Birthplace: Heerlen
Current Location: Heerlen
Eye Color: Brown
Hair Color: dark blond
Righty or Lefty: both ..
Zodiac Sign: lion
Font: wtf?!


[

series 2 - your favorite

]


Music: hardcore...rock..I don't really care
Lotion: vogue
Color: red
Car: mercedes mclaren SLR
Magazine: fancy (=a dutch magazine)
TV Show: friends, charmed etc.
Song at the Moment: none
Language: dutch
Food & Beverage: pizza and coke
Subject in School: physics
Weekend Activity: hanging out with friends
Ice Cream: don't care
Roller Coaster:superman the ride (in Holland)



[

series 3 - what is

]


Your most overused phrase: what the hell?
First thing you thought when you woke up: thank god..I'm still breating
Last image/thought you go to sleep with: I'm so tired
First feature you notice of opposite sex: Personality
Wussiest Sport: umm
Your best feature: my eyes I guess
Your greatest fear: war
Your greatest accomplishment: none ..
Your most missed memory: Daantje :'(

[

series 4 - you prefer

]


Pepsi or Coke: coke
Wendys or Burger King: burger king
Single or Group Dates: group
Adidas or Nike: Nike
Chicken nuggets or Chicken fingers: chicken nuggets
Dogs or Cats: cats
Single or Taken: taken
Monica or Brandy: ummm ...
Shania Twain or LeAnn Rhymes: none
Lipton Ice Tea or Nestea:lipton
One pillow or Two: 1
Chocolate or Vanilla: chocolate
Hot chocolate or Hot cocoa: chocolate
Cappucino or Coffee: cappucino



[

series 5 - do you

]


Shower everyday: of course
Have a crush: yup
Think you've been in love: umm i think so
Want to go to college: yeah
Like high school: not really..
Want to get married: yup
Type correctly: most of the time
Put fingers correctly on the keyboard: dunno
Believe in yourself:depends
Have any tattoos: not yet...
Have any piercings: yeah in my ears and soon one in my tongue
Get motion sickness: nope ..
Think you're a health freak: hell no ..
Get along with your parents: no ..
Like thunderstorms: if they're not hard :p



[

series 6 - the future

]


Age your plan to be married: dunno
Number and names of children: no idea
Where will you be at age 20: somewhere
Dream wedding: I'll see it than
How do you want to die: fast
Dream job: dunno
Country you'd like to visit: USA here i come



[

series 7 - opposite sex

]


Pericings or not: doesnt matter
Best eye color: doesnt matter
Best hair color:Brown I think
Short or long hair: between
Best height: taller than me
Best weight: don't care
Best clothes: sportive...sexy...anything
Best first date location: movies
Best first kiss location: in a park



[

series 8 - other

]


Last time you slept with a stuffed animal: last evening :p
Rings before you answer the phone: 3
What's on your mouse pad: my mouse DUH
How many houses you've lived in: 1
How many schools you've gone to: 2
Bedroom carpet color: blue
Shave your head for $5,000?: double it :p
Stranded on a desert island. Take three things. No people: food, a phone to call 911 :p and a boat
Best time of your life so far: waaah dunno


[

series 9 - shopping

]


Where is your favorite place shop at : euhm
What do you like to get : clothes
Do you like it when your mom comes with you: nope
Do you like to go in a group, or by yourself: group
How many times a week do you go: whenever i get the money




12 Ways To Get To A Girls Heart--


1. Hugs her from behind.


2. Grab her hand when you guys walk next to each other.

3. When standing, wrap your arms around her.


4. Cuddle with her.


5. Dont force her to do ANYTHING!


6. Write little notes.

7. Compliment her.

8. When you hug her, hold her in your arms as long as possible.


9. Say I love you.....and MEAN IT!


10. Brush the hair out of her eyes


11. Comfort her when she cries.

12. Love her with all your heart

Girls: Repost this if you think it's sweet
Guys: Repost this if you would do any of it


15 THINGS YOU NEVER KNEW OR THOUGHT ABOUT


1) AT LEAST 5 PEOPLE IN THIS WORLD LOVE YOU SO MUCH THEY WOULD DIE FOR YOU.


2)AT LEAST 15 PEOPLE LOVE YOU IN SOME WAY.


3)THE ONLY REASON ANYONE WOULD EVER HATE YOU IS BECAUSE THEY WANT TO BE JUST LIKE YOU.


4)A SMILE FROM YOU CAN BRING HAPPINESS TO ANYONE, EVEN IF THEY DON'T LIKE YOU.


5)EVERY NIGHT, SOMEONE THINKS ABOUT YOU BEFORE THEY GO TO SLEEP.


6)YOU MEAN THE WORLD TO SOMEONE


7)IF NOT FOR YOU, SOMEONE MAY NOT BE LIVING


8)YOU ARE SPECIAL AND UNIQUE


9)SOMEONE THAT YOU DON'T EVEN KNOW EXISTS LOVES YOU


10)WHEN YOU MAKE THE BIGGEST MISTAKE EVER, SOMETHING GOOD COMES FROM IT.


11)WHEN YOU THINK THE WORLD HAS TURNED ITS BACK ON YOU, TAKE A LOOK: YOU MOST LIKELY TURNED YOUR BACK ON THE WORLD.


12)WHEN YOU THINK YOU HAVE NO CHANCE OF GETTING WHAT YOU WANT, YOU PROBABLY WON'T GET IT, BUT IF YOU BELIEVE IN YOURSELF, PROBABLY, SOONER OR LATER, YOU WILL GET IT.


13) ALWAYS REMEMBER THE COMPLIMENTS YOU RECEIVED. FORGET ABOUT THE RUDE REMARKS.


14)ALWAYS TELL SOMEONE HOW YOU FEEL ABOUT THEM; YOU WILL FEEL MUCH BETTER WHEN THEY KNOW.


15)IF YOU HAVE A GREAT FRIEND, TAKE THE TIME TO LET THEM KNOW THAT THEY ARE GREAT.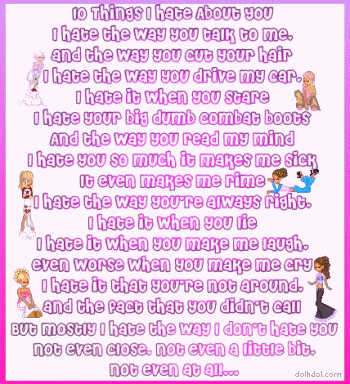 It's from 10 things I hate about you..I love that movie!


[THANKS FOR GIVING ME HOUSE A LOOK, PLZ LEAVE A MESSAGE AND TELL ME YOUR OPINION,

LOVE, VIVIAN AKA THE REAL ME!]