Description:
Im Mel Mel. Or Onkel Lahee Vonklinkerhove
n.
I am 16 years young.
I'm a little bit less then sane.
Yet alot less then perfect.
I have the best best friend in the world, Danni-Jane<3. Hurt her and your life won't be worth living.
Lewis<3 rocks my world, and I love him.
I love Pokemon.
And Sci-fi. Im a nerd, but i've grown to accept it.
Eyeliner is my everything.
People wearing high visibilty jackets unnessarily annoy me.
Trivium make my ears bleed.
I make a fool out myself without meaning to, too often.
Dr Pepper is a personal friend of mine.
Im the type of girl who you will find laughing about something she heard yesterday.
I have wonderful friends.
I don't get too close to people.
The dark makes me cry.
I look like the type of person old ladies cross to the other side of the street to avoid, but i'm not.



uh huh [Captain Crash™]!!
BEST.. ummmmm UDDY?!
Like Totally Kyle, live from her garage
mucho [

♥

] SuperDan<3
[

Say You'll Stay Like This Forever™

]

HaHaHa
[

So When You Want To Give Up And Your Hearts About To Break, Remember That Your Perfect God Makes No Mistakes

]
Ear Candy
Bon Jovi
My Chemical Romance
Lostprophets
The Birthday Massacre
CKY
New Found Glory
Blink 182
Fallout Boy
Enter Shikari
The Rasmus
Alice Cooper
Alien Ant Farm
All American Rejects
The Killers
Eminem
Busted
Franz Ferdinand
Placebo
The Human League
Linkin Park
Limp Bizkit
Morrissey
The Smiths
Madonna
Sugarcult
Bowling for Soup
3 days grace
Depeche Mode
Gary Numan
HIM
INME
Marilyn Manson
Biffy Clyro
Aiden
The Used
System of a Down
Billy Idol<3
[#] <---- psst! [
p.r.e.s.s

] it, its magic!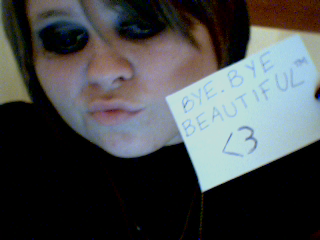 MayTheForceBeWithYou&&RockOnLittleOnes
PeaceOut

Me&&myCrazyArms