Page name:
plans for world domination
[Exported view]
[RSS]
2005-07-06 22:21:27
| | | |
| --- | --- | --- |
| # of watchers: 7 | Fans: 0 | D20: 6 |
---
---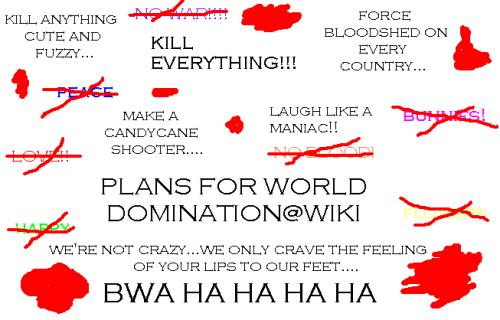 ---
THIS IS THE WIKI PAGE FOR THE CRAZY'S!!!!!! WE ARE ALL PLANNING TO DOMINATE THE WORLD XD !!!!! NO CUTE THINGS OR LOVE AND PEACE!!!!! WE WANT BLOODSHED AND DEATH!!!! AND OF ALL THINGS DOMINATION AND POWER!!!!!! BE A MEMEBER!!!!
---
Notification!
This part has been merged with WD - The plotting!
---
Founders Of This Wonderfull Wiki:
1.[Kagomeyasha]-No worthless padestrian will stand in my way. I will kill them all, and anyone who tries to take my place. Also, I will have fun toturing you all, WHEN I RULE THE WORLD! *cackles*
2.[dark kitty in big trouble] and i shall rule it along side with you!!!!!!THAN ALL THOSE FOOLISH MORTALS SHALL bow down at our feet like the animals they are mwahahahhahahhaa
---
Planner's of World Domination-Become a member!!
---
---
---