Page name:
Trivia: Catch Phrase Contest
[Exported view]
[RSS]
2005-07-28 07:34:19
| | | |
| --- | --- | --- |
| # of watchers: 5 | Fans: 0 | D20: 7 |
We, the staff of Trivia, have decided to make the place a bit nicer, and more lively. So, we need your help in coming up with a catchy 'Catch Phrase' for us. We could do it ourselves, but we are fat and lazy. So, get your mind working, and start to come up with ideas!

Rules
1. No longer then twelve (12) words! We want it short and simple, not a paragraph!
2. Don't steal other people's ideas -- that's not nice!
3. Don't delete other people's ideas -- if you do you will be reported!
4. Please make the catch phrase relevent to
Trivia
-- if it is not relevant to
Trivia
it will be deleted.
REMEMBER: Just adding the word Trivia does not make it Trivia related
.
5. Please do not submit more then three (3) entries!
6. Have fun!

Prizes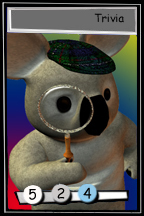 and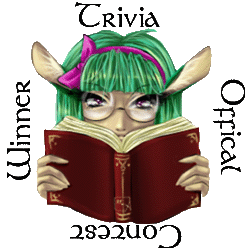 These were given to our first place winner, [~altopia~]!

Our second place winner, [Solitiaum], was given this silver trophy!
The third place winner was given this bronze trophy, and that person was [skullhead]!

You can see the final vote at Catch Phrase Contest Submissions!

If you have any questions concerning this contest please contact [Big Brother]
---
| | |
| --- | --- |
| | Show these comments on your site |