Page name:
Elf packing contest
[Exported view]
[RSS]
2009-02-19 15:05:06
| | | |
| --- | --- | --- |
| # of watchers: 16 | Fans: 0 | D20: 1 |
Elf packing contest
The goal of the competition is to take a picture that contains as many elves packed together as possible. The photo with the most well packed elves will win.
The winner will be declared the
Master Elfpacker 2009
(and senior and skilled Elfpacker for second and third place)
Winners 2006

[Avrora_Black]
Second place 2006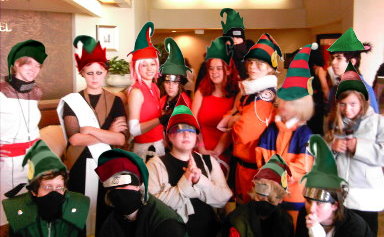 [Zombie girl]
Voting was in <poll:12425>
No submissions 2007.
Winner 2008

By [♥Eli-Annai♥]
Rules
§1 The photo has to have been taken by you and it should be uploaded to Elfpack. Go to your house and press "Upload a folder of images" if you want to upload a big image.
§2 You'll get the image as a winning badge. And eternal fame, of course.
§3 How the winner is selected might vary. [
Hedda
] or some kind of poll.
§4 Judge is [
Hedda
] for the time being.
§5 Deadline for submissions is December the 29th 2009.
§6 Most kinds of elves are allowed. Take the ones you find on live roleplaying, around Santa or what-ever. Just pack them well and take a photo!
Other Elfpack Contests.
---
Example submission by year 2006's winner:
[
Avrora_Black
]
Enter your submissions for the Elf packing contest 2009 here:
[
Boomnesss
]
---
| | |
| --- | --- |
| | Show these comments on your site |