DeathWillCome91
(anal seapage!

)
Email: terminationbliss@msn.com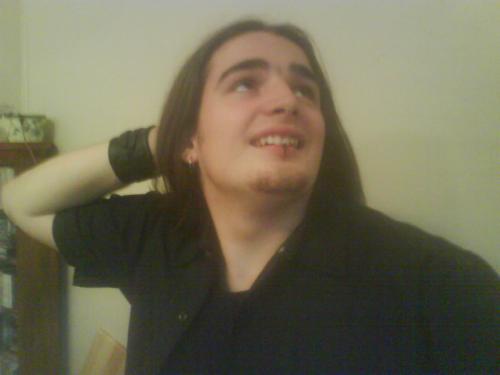 its a very blury and old picture of me. but you get the basic idea.

Elfpack titles and orders
Description:
I smell really bad. And Bryony is better than me. And I want to lick Sam's face again. THREESOMES FTW!!!
Hi, Im Michael (aka
The Gothman
)
I am 18.
I go to a college. Obviosly...
I'm Very gothic.
I like Drinking..
I'm quite an easy going guy whos always up for a life and always ready to get drunk.
I am Taken So i WILL not go out with any of you.
Got it
my friends wrote the top bit so.......sorry
.


my closest friends on elfpack are:

[Vaughne]
[angel4evr]
[De Rais]
[black-rose]
[Cloud Natiion]
[Necrobioticrash]
[HellyWelly]
[I be THE MAT!]
[kid 666]
[Boomnesss]
[Mr. Oogie Boogie]
[Noble]
[The Incredible Bulk]
[The Lost Boy]
[WHIPSTICKAGOSTOP]


my wikis are:

the yorkshire crew


interests:
(bass)guitar, i love my girlfriend to the grave, music (mainly black metal, doom metal, goth metal and industrial metal some molodic metal but thats because of my girlfriend), gigs, friends, alcohol, guiness, black clothes, new rocks, mathamatics (i love it strangely enough) and thats all i can think of right now

music:
i like most genres of metal(apart from rap metal). to list a few band:
the 69 eyes, 1349, amorphis, celtic frost, children of bodem, CRADLE OF FILTH, CRUXSHADOWS, daath, death ss, DEATHSTARS (FAVOURITES), demons and wizards, dimmu borgir, disturbed, dope, edguy, elis, emperor, epica, for my pain, GOTHMINISTER, hurt, iron maiden, katatonia, korn, lordi, marilyn manson, ministry, mortiis, murderdoll, my dying bride, nadir, necromorticia, nightwish, opeth, ozzy osbourne, pain, paradise lost, placebo, psyclon nine, RAMMSTEIN, rob zombie, sabaton, SAMAEL, SATYRICON, sentenced, shape of despair, THE SIN:DECAY, slipknot, stone sour, STONEMAN, tristania, TURISAS, type o negative, vnv nation, WEDNESDAY 13, within temptation.



i have a mass phobia of emos. i will sit and talk civilly with one but if they start going emo on me i will rip them. sorry cant help it
| | | | |
| --- | --- | --- | --- |
| Age: 19 | Year of birth: 1991 | Month of birth: 2 | Day of birth: 6 |
What do you do?:
Studying
Place of living:
United Kingdom-England
Exact place of living:
hebden bridge, west yorkshire
Music
| classical | goth | heavy metal |
| --- | --- | --- |
| punk | rock | synth |
Other interests
anime
beer
drinks
economics
motorcycles
politics
porn
slacking
watching sport
wine
Sexual preference:
opposite sex
Body shape:
a little overweight