SIGN MY GUESTBOOK PLZ PLZ PLZ! I'LL LOVE YOU FOR IT!!!!!!
If you had me alone, locked up in your room for 24 hours, and I had to do whatever you wanted me to do, what would you do with me? Post this in your house. You might be surprised at the answers you get.]
[
would u.....
1. Give me your number?
2. Have sex with me?
3. Let me kiss you?
4. Watch a movie with me?
5. Let me take you out to dinner?
6. Drive me somewhere/anywhere?
7. Take a shower with me?
8. Be my bf/gf?
9. Have a fling with me?
10. Buy me a drink if i didnt have money?
11. Take me home for the night?
12. Would you let me sleep in your bed?
13. Sing car kareoke w/ me?
14. Re-post this for me to answer your questions?
15. Do you think im attractive, sexy, or hot?
16. Do you like my style?
17. Do you think im funny?
18. Do you care about me?
19. Would you dance with me?
20. Would you sing happy birthday to me?
]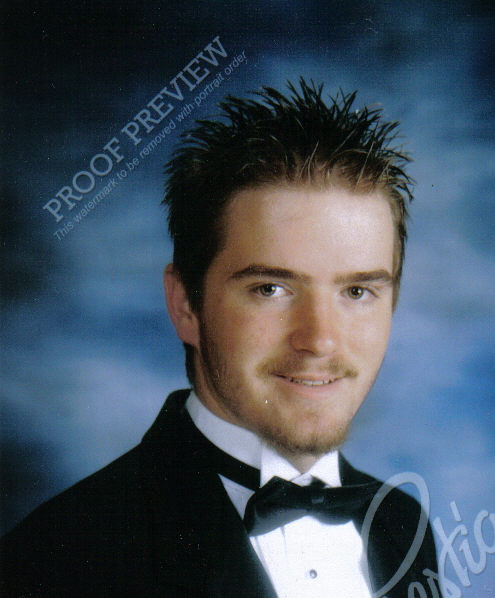 My brother [
Young J.C.
], he's the coolest
This is my sister [
the color pink turns me on
]
this is my older brother david and his ex-girlfriend shannon
This is me, my cousin [
pimpdaddypaul
], and my step-brother matt, this way taken last yr.
Juggalette Pledge
I pledge allegiance to the Hatchet of the Underground Juggalo Society, and to the Ninjas for which it stands, One Family, Under Clowns, Full of Freaks, with Faygo and Magik Neden for all!!!
if ur a juggalo or juggalette put the pledge in your house
YOU...
:x: birthday =April 24, 1986
:x: age = 18
:x: city = Murphy
:x: height = 5'7"
:x: shoe size = 9 1/2
:x: hair color = strawberry blonde
:x: school =I graduated already
NUMBER...
:x: of siblings = 3
:x: of pets = 2
:x: of shoes = 8
:x: of piercings =2
:x: of exboyfriends = like way to many
:x: of times I have been in love? = twice
:x: of times I have had my heart broken? = once
:x: of hearts I have broken? = not sure
:x: of boys I have kissed? = lots ..
:x: of people I would classify as true, could trust with my life type friends? = like 2
:x: of people I consider my enemies? =none really
:x: of times my name has appeared in the newspaper? = not sure
:x: of scars on my body? = 2
:x: of things in my past that I regret? =alot
LAST...
:x: movie you rented = Not sure
:x: song that was stuck in your head = Not sure
:x: person you've called =Steve
:x: person that called you = Steve
:x: person you were thinking of =Steve
:x: friends you made = Justin
DO...
:x: you have a crush on someone = yes
:x: you wish you could live somewhere else = yes
:x: you think about suicide = yes
:x: others find you attractive = yes
:x: you want more piercings = yes
:x: you drink = sumtimes
:x: you do drugs =no..
:x: you smoke = no
:x: you like cleaning = no
:x: you like roller coasters = yes!
:x: you write in cursive or print = both
FAVORITE...
:x: food = ummm lots
:x: thing to do = Listin to music hang out wit friends write poems
x: thing to talk about = music..boys
:x: sports = baseball
:x: drinks = coke
:x: clothes = pants and a shirt
:x:movie = theres soo many
:x: holiday = I hate holidays
:x: word = ummm not sure
:x: nickname = lazy lil kitty
:x: eye color = hazel
:x: flower = i like roses
:x: actor = no clue
HAVE YOU...
:x: ever cried over a girl = yes
:x: ever cried over a boy = yes
:x: ever been in a fist fight =yes
:x: ever been arrested = no
:x: ever been on a talk show = yes
WHAT...
:x: are you scared of = lots of things
:x: time do you wake up = whenever i feel like it
:x: reminds you of your past = pictures, songs, movies, t.v. shows
:x: makes you think = everything
DO YOU THINK YOU ARE...
:x: funny = sumtimes
:x: friendly = alittle
:x: amusing = yes
:x: lovable = yes
:x: caring = sumtimes
:x: sweet = u could say that
:x: dorky = lol yea
:x: ditzy = lol yupp
:x: smart = yes
:x: understanding = yea
:x: entertaining= sumtimes
HAVE YOU EVER
1) Dated one of your best friends: yes
2) Loved/Liked: yes
3) Cried: yes
4) Drank alcohol: yes
5) Done drugs: yeah
6) Broken the law: yes
7) Broken a bone: no
8) Cheated on a test: yeah
9) Skinny dipped: yea
10) Played Truth or Dare: yea
11) Ridden in a fire truck: no
12) Come close to dying: yes
13) burned yourself: no
14) Given someone a piggy back/shoulder ride: Yes
15) Eaten a worm/mud pie: hell no
16) Stayed up till four on the phone: yes
17) Tipped over a port-a-potty: no
18)Fell asleep while eating: yes
19) Met someone famous: yes a couple ppl
20) Been in a school play: yea
21) Cried in public: yes
22) Seen someone die: yea
23) been in a fist fight: hell yea
24) given someone a bruise: yes
25) gotten a bruise: yes
26) knocked somone out: yup
27) been knocked out: no
28) flipped any vehicles: uh no
29) cut someone: yes
30) been cut: yes
31) burnt any buildings down: no
32) sex in public: hell yea!!!!!!!!
33) mooned someone: yea
34) acted kidnapped in a car: no
35) flashed someone: yea
36) kissed an ass: yea
37) blew something up: yea
38) caught your house on fire: no
39) threw a firecracker at someone: hell yea!
40) been in any wars: no
41) stayed up all night: yes
42) slept all day: yeah
43) watched the sunrise: yes
44) rode a motorcycle: ya
45) driven a car: yeah
46) wrecked a car: yea
47) kissed your friend: yes
48) been kissed by your friend: yes
49) posed for a nude pic: yes
50) been suspended: yup
51) been expelled: no
52) been arrested: no
53) been in jail: no
54) Fallen for your best friend? yes
55) Made out with JUST a friend? yes
56) Been rejected? no
57) Been in love? yes
58) Been in lust? hell yes
59) Used someone? yea
60) Been used? yea
61) Been cheated on? yes
62) Done something you regret? hell ya
63) Considered a life of crime? yea
64) Considered being a hooker?yea[
2 for tha price of 1
]
65) Considered being a pimpet? yea
66) Are you psycho? yea
67) Split personalities? sometimes
68) Schizophrenic? no
69) Obsessive?nnnn
ooo
70) Obsessive compulsive? no
71 Dream of dead bodies, blood, death, and gore? yes
72) Dream of doing those things instead of just seeing them? yes
73) Understanding: yes
74) Open-minded: yes
75) Arrogant: yes
76) Insecure: sumtimes
77) Interesting: yea
78) Hungry: yea
79) Friendly: yea..
80) Smart: yes.
81) Moody: yea
82) Childish: sometimes
83) Independent:yea
84) Hard working: sometimes.
85) Organized: yea
86) Healthy: some wat!
87) Emotionally stable: i guess
88) Shy: no
89) Difficult: YEA!!
90) Attractive: i guess
91) Bored easily: yes...
92) Thirsty: constantly
93) Responsible: i guess
94) Sad: yea
95) Happy: no.. well sumtimes
96) Trusting: Yes...
97) Talkative: yeah
98) Original: in my own way
99) Different: yea
100) Unique:yea
101) Lonely: at home? always
102) Dye your hair? no
103) Own a web cam? no
104) Ever get off the computer?hell no
105) Gone out with someone just for their looks? yes.
106) Made a prono film? yes
107) Ever been the one your friend came out to? yea
108) Ever made out in front of your parents? Never had a chance to cuz my moms dead and i don't care about my dad.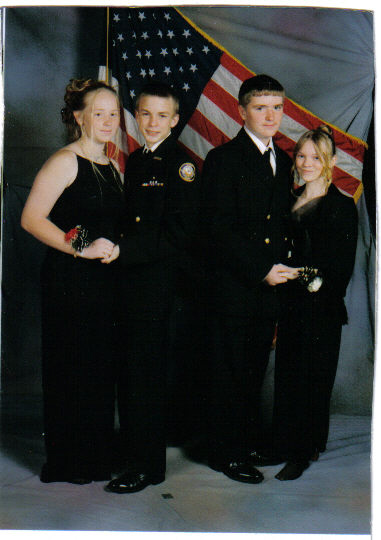 Me, My Best Friend James (isn't he cute), My brother [Young J.C.], and my best friend heather (she's the coolest person around)
this is at my military ball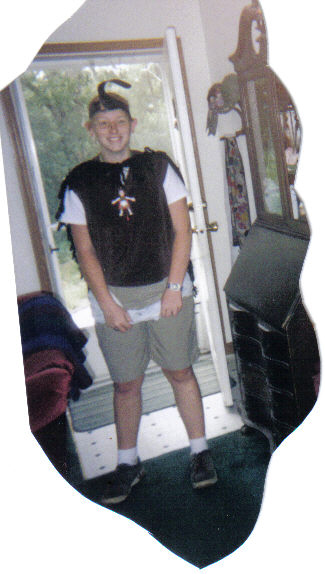 This is me as Queil Man (off of doug the cartoon for the one's who don't know) last yr.



me and my sister [the color pink turns me on]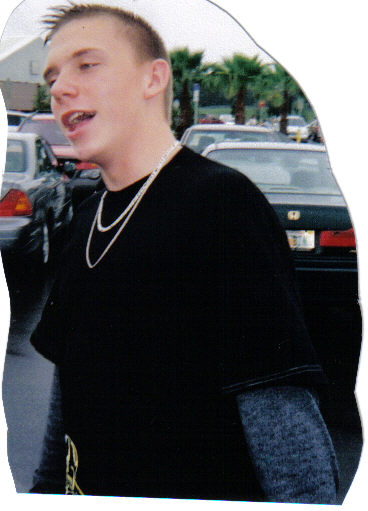 my couin [pimpdaddypaul]