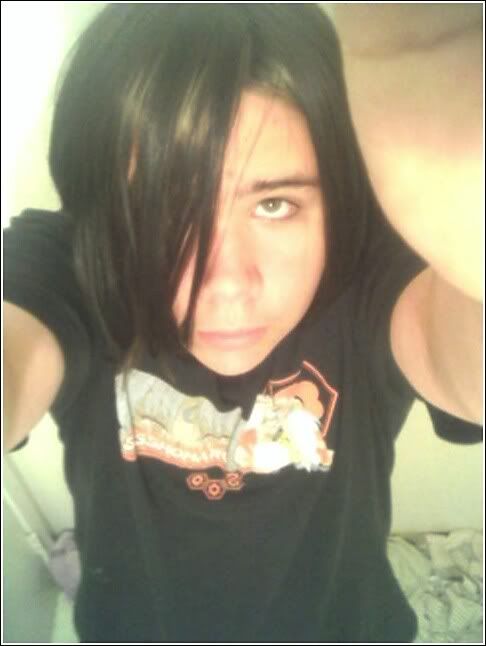 This is [
08_juggalo
] AKA Jason. He is so fucking awesome! He's always there when i need to talk. He's always there when i need a hug or im sad. He knows how to cheer me up. I love him bunches and that will never change. I FUCKING LOVE YOU JASON!
(Image deleted by the guards)
This is laney! She is like one of my COOLEST friends! I love her to death....I LOVE YOU LANEY!
I REALLY LIVE IN TEXAS, US. IVE ONLY VISITED ESTONIA ONCE BUT I SPEAK IT VERY WELL ALONG WITH FINNISH, ENGLISH, AND GERMAN.
IM 14.
I HAVE BROWN HAIR WITH NATURAL BLONDE
HIGHLIGHTS.
THEY ARE KINDA HARD TO SEE THOUGH.
I HANG OUT WITH MAINLY GUYS.
I SK8BOARD, PAINTBALL, FOURWHEEL, DIRTBIKE, SNOWBOARD, AND BMX.
MY FAVE SPONSORS R ELEMENT AND ZOO YORK.
TWO OF MY FAVE SK8RS R DANNY WAY & ERIC KOSTON.
I CAN BE VERY RANDOM AT MOMENTS.
UMM, ASK ME ANY QUESTION AND ILL ANSWER IT.
I PLAY THE DRUMS AND THE GUITAR.
I OWN 4 PAIRS OF CONVERSE AND 1 PAIR OF ADIOS, DVS, DC, AND ETNIES.
I ABSOLUTLY HATE PURSES.
I LIVE IN TEXAS USA.
YES I DO HAVE FRECKLES.
I'VE NEVER HAD A BOYFRIEND.
MY NATURAL EYE COLOR IS GREY WITH A DARK GREY RING AROUND IT.
I HAVE A MYSPACE.
ITS:
http://www.myspace.com/stockingsandconverse
This is Austin. He's totally awesome and sweet! He's one of my coolest friends. He's fun to hang out with and hes pretty cute. I LOVE YOU BUNCHES AUSTIN!
This is Jamie(left) and Sammy(right). They are so freaking cool! They are freakin fun to hang out with. Sammy just got her braces off! YAY! I'm so happy for her! I LOVE YOU BUNCHES JAMIE AND SAMMY!
When did you start skateboarding? Be detailive.: about 6 months ago
Why did you start skateboarding?
: cause my friends told me it helps relieve stress and it was fun and also watching bam margera doing it to.

What made you want to skate?: being able to do tricks and stuff.

Advanced.

Name some of your favorite tricks on flat.: idk

Name some of your tricks you favor on a rail/flatbar.: idk, theyre all favorites

What trick are you working on now?: not really a trick. just trying to jump 14 steps

What was the last trick you learned?: impossible

Favorites Pros.

Street?: mullen

Lines?: mullen

Tech?(combos): ive seen some crazy shit but i really don't know

Style?: i like them all

Vert/Mini-ramp?: idk

Most inspirational to you.: ummm, bam

Who gets you hyped up?: kyle

Why?: cause he just does

Accomplishments.

What was your first 'big' accomplishment to you made?: ummm, beating kyle in a game of skate

What was the last 'big' accomplishment you made?: beating selina in a game of skate

What is your 'biggest' accomplishment you made?: beating both of my best friends in a game of skate

Have you ever taken more than 30 minutes to do one trick? What trick?: yep, impossible

How about an hour? What trick?: yep, impossible

Your Ride Setup.

Deck?: element

Trucks?:

Wheels?: element

Bearings?:

Griptape?: blue

Hardware?:

Risers?: i dont need any

Any special designs or die-cuts on the griptape?: a star in the top right corner and a skull on the bottom left corner

Shoe?: adio

Favorite Companies.

Deck?: element

Trucks?:

Wheels?: element

Shoes?: adios

Clothing line?: element

Team in general?: element

How long does it take to go through a...

Deck?: 5 minutes

Trucks?: 5 to 7 minutes

Wheels?: 5 to 10 minutes

Bearings?: 5 minutes

Shoes?: 20 minutes

Your typical day out on the town.

What do you do before you go out?: drink a bottle of water and toss m&ms in the air catching them in my mouth

Do you check your ride setup? For hardware rattling/smooth bearing flow?: nope

Skate spots you warm-up on?: the park

Do you warm-up on flat?: nope

How long do you stay at one spot?: idk. at the most bout an hour

Do you like stairs?: yeah

How about ledges?: yeah

Manny pads are cool, right?: umm, i don't wear any pads

What about skateparks?: yep

Do you have to wear a helmet?: the hell not. i don't wear helmets

Do you ever wear it?: i just told you no

Should skateparks be free if cops have to hassle you to go there?: hell yeah. cops can kiss my ass

Speaking of cops, do you have your own nickname for them?: ticky. cause i tick them off so much and so far ive gotten like 3 warnings. on the 4th ill be getting a ticket. lol.

Do you ever run from cops?: once

Name some of your buddies you go out with.: kyle, selina, corey, noah, brandon, nick, izzy, mitch, kc.

Do you film?: sometimes, only when we feel lucky

Are you on a team?: nope

Thoughts on skateboarding in business.

Are you in it for the money?: nope

Would it be nice to get paid doing what you love?: yeah

Nike, Adidas, Puma, et cetera. Thoughts on them?: only puma

Did you know that Nike was one of the first skate shoes?: i hate nike

Any thoughts on Brandon Margera? Sell out? Over-rated?: i frickin love bam! hes my fricken idol

Well, what about malls selling skateshoes? Aka Pacsun/Journey's.: yeah

Your school.

What percentage of your school is skaters?: 2%

What percentage of your city are skaters?: 2%

Would you get in trouble for skating to school, then stash in your locker?: nope

What percentage of your school is poseurs?: 35%

Can poseurs in your school even spell poseur?: nope

What about BamFags? You know, all about Bam, HIM, and Element?: hey, i am not a fag. i think hes cool. im not fricken obsessed with him.

Preps wear Etnies?: i fuckin hate when they do that. it pisses me off.

Final.

Where do you want to go with your skating?: i dk, if im lucky enough pros maybe

Is skating your life?: not exactly. about 75% of it is.

Why aren't you skating now?: cause im taking this gay quiz

What's your favorite trick?: impossible?

Play TonyHawk games?: yep

If you could skate with any pro right now, who would it be?: danny way

Have you ever lost a lover over skateboarding?: ummm, no, cause ive never had a lover or boyfriend

Do your parents support your skating?: yeah

Ever thought about how far skating can be pushed?: once or twice

Do you watch skate vids a lot?: kinda

How many do you own?: 12

Did you know you can download them?.: umm now i do

After doing this quiz, do you want to skate?: yep

Really? That's cool.: i know right

What's the raddest thing you've ever seen
in skateboarding?: idk.

Do you watch competetions on TV?: yep

Local Competetions?: nope

Do you play SKATE a lot?: yep

Do you love skateboarding or what?: hell yeah


what would you do if:
[

1) I committed suicide:

]
[

2) I said I liked you:

]
[

3) I kissed you:

]
[

4) I lived next door to you:

]
[

5) I started smoking:

]
[

6) I stole something:

]
[

7) I was hospitalized:

]
[

8) I ran away from home:

]
[

9) I got into a fight and you weren't there

]
general stuff:
[

1) Who are you?

]
[

2) Are we friends?

]
[

3) When and how did we meet?

]
[

4) How have I affected you?

]
[

5) What do you think of me?

]
[

6) What's the fondest memory you have of me?

]
[

7) How long do you think we will be friends or enemies?

]
[

8) Do you love me?

]
[

9) Have I ever hurt you?

]
[

10) Would you hug me?

]
[

11) Would you kiss me?

]
[

12) Would you make love to me?

]
[

13) Would you marry me?

]
[

14) Emotionally, what stands out?

]
[

15) Do you wish I was cooler?

]
[

16) On a scale of 1-10, how nice am I?

]
[

17) Give me a nickname and explain why you picked it.

]
[

18) Am I loveable?

]
[

19) How long have you known me?

]
[

20) Describe me in one word.

]
[

21) What was your first impression?

]
[

22) Do you still think that way about me now?

]
[

23) What do you think my weakness is?

][

24) Do you think I'll get married?

]
[

25) What about me makes you happy?

] [

26) What about me makes you sad?

]
[

27) What reminds you of me?

]
[

28) What's something you would change about me?

]
[

29) How well do you know me?

]
[

30) Ever wanted to tell me something but couldn't?

]
[

31) Do you think I would kill someone?

][

32) Are we close?

]
[

33) Are you going to put this on your house and see what I say about you?

]








Neon Shoelaces