1~cute*chick
(Do my poll! I have yahoo messenger

)
Email: love_2_love_ur_love@yahoo.com.au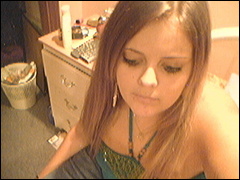 Image missing.
Elfpack titles and orders
Description:
Hi I'm Jamie im almost 13 have an older sister, and for those who keep asking i dont have a web cam i dont have any pictures yet when i go to my friends place in a couple of weeks i should get some. I have got Yahoo messenger so just add my e-mail. looking forward to talking to you ;)

I'm a size 6 I have a size 6 double C cup boobs and have blonde hair with red streaks i have blue/green eyes. I weigh 49 kg and am 161 cm and i have 2 peircings in each ear a belly bar with a playboi bunny on it and i have a nipple bar on my left tit but im thinking of getting the other one done to. I might be young but love to have sex.


Looking forward to talking to everyone that messages me...

*Jamie*
xxx

~~~~~~~~~~~~~~~~~~~~~~~~~~~~~~~~~~~~~~~~~~~~

Hey everyone!

I'm not single anymore i have this super hot boyfriend, yes i know you all want him ;) Well i hope you are all as happy as i am :)

~~~~~~~~~~~~~~~~~~~~~~~~~~~~~~~~~~~~~~~~~~~~


~~~#@***READ THIS***@#~~~
You may ask me four questions.
Any four, no matter how private or how random.
I have to answer them honestly,and I have to answer them ALL!
In turn you post this message in your own journal, wikki, or profile and you have to answer the questions that are asked of you!
~~~#@***READ THIS***@#~~~


~~~~~~~~~~~~~~~~~~~~~~~~~~~~~~~~~~~~~~~~~~~~

If you had me alone, locked up in your room for 24 hours, and I had to do whatever you wanted me to do, what would you do with me?




1. Who are you?
2. Are we friends?
3. When and how did we meet?
4. Do you have a crush on me?
5. Would you kiss me?
6. Give me a nickname and explain why you picked it.
7. Describe me in one word.
8. What was your first impression?
9. Do you still think that way about me now?
10. What reminds you of me?
11. If you could give me anything what would it be?
12. How well do you know me?
13. When's the last time you saw me?
14. Ever wanted to tell me something but couldn't?
15. Are you going to put this on your house and see what I say about you?




AND!
1. Give me your number?
2. Have sex with me?
3. Let me kiss you?
4. Watch a movie with me?
5. Let me take you out to dinner?
6. Drive me somewhere/anywhere?
7. Take a shower with me?
8. Be my gf/bf ?
9. Have a fling with me?
10. Buy me a drink if i didnt have money?
11. Take me home for the night?
12. Would you let me sleep in your bed?
13. Sing car kareoke w/ me?
14. Re-post this for me to answer your questions?
15. Do you think im attractive, sexy, or hot?
16. Do you like my style?
17. Do you think im funny?
18. Do you care about me?
19. Would you dance with me?
20. Would you sing happy birthday to me?






| | | |
| --- | --- | --- |
| Age: 12 | Month of birth: 5 | Day of birth: 22 |
What do you do?:
Studying
Place of living:
Australia
Music
| heavy metal | pop | punk |
| --- | --- | --- |
| rap | rock | techno |
Other interests
beer
cars
chasing the preferred sex
dancing
drinks
motorcycles
party
porn
singing
whisky
Sexual preference:
opposite sex