Description:
Important message: Ok guys im not on here as often as i used to any more...i am now mainly on myspace so if you wanna catch up or just add me as a friend just click here to got my profile

http://myspace.com/cows_in_converse

I will still be on here...just not very often..i hope to see you on myspace! love yas!

...if looks could kill you'd be a murderer or maybe just a WhOrE!


[I must; I'm lusting for your body
Skin looks tight, think I just might have
To take a bite, but I know one will turn
To three or four or more my little whore ]

**drama doesnt follow me,
it rides on my back
i may be ugly
but they sure love to stare**


[*** Who took 12 rounds straight to the chest..
Thats 2 six shooters to be exact!***]

[

meh shoelaces

] are teh [

SHIZ!

]


Firstly i would like to say-
R.I.P- John "Beatz" Holohan
On the morning of Oct 31, Bayside was involved in a terrible accident, claiming the life of beloved drummer John "Beatz" Holohan.

["So, today as I was talking on my trusty sidekick, I had an epiphany about life. If you're about to die you should probably cum, because well...it's your last chance."

-Matt Good]



check out my [

wiki's!

]
never say sold out (uberly cool pics!)
never say sold out prt2 (really good wiki of randomness bands and info...)
bert all over (pics of bert only!)
matt and sonny delight (u know wat that means!)
sonny and matt Part 2
Ultimatums for egos



<b>

...i want someone provocative and talkative but it's so hard when you're shallow as a shower
from what i've heard with skin you'll win...






im a sad strange little girl.....think what u want of it.

[

LufFs**

]

Eyeliner
78 Records!
SONNY FREAKIN MOORE!
My Shoelaces!
Hardcore thingz!@#
Everything Emo!
Dramatics!#@
Bert!
Nice hair....(im like obsessed with nice hair!!!)
All thingz rock n roll!
People that are interesting!
Bring on teh NoIsE!@#@

[

disluffs##

]
BitchesXXXXXX
Mushrooms :(
Judgemental people
Rap crap
Sleaze bags (get a life!)
PoSeRs! who call other people PoSeRs! (i luff u but u need to find reAlItY and stay there coz ppl will call u a poser too and its cruel but sometimes u ask for it so save yaself that please!!)
Unloving sarcastic freaks (u should all die of paper cuts!Wait....hold the music...i've changed my views on unloving sarcastis freaks...i actually love u guys and i realise that i am just like that...)

[

<b>

"What a beautiful wedding! What a beautiful wedding!" says a bridesmaid to a waiter.
"And yes, but what a shame, what a shame, the poor groom's bride is a whore."]


**this is a party without the people
this is a show without the sounds
this is a dance with out the steps**






[ok] so here's teh thing my dears....yes once upon a time i considered myself emo...then i got over it...i still love the music but the whole idea of labels is so stupid...it shits me off a bit...dont worry i dont have a problem with people calling themselves emo...just dont expect me to call you it...i dont want to be a part of labels anymore...they are just an excuse to give other groups cra for being who they are and its shit...Im random and my shoelaces talk to me....curious? well then just ask me what they say.... ;)

[.:Everyone loves a drama
Everyone loves the drama

Let's set the stage on fire
And Hollywood will be jealous
(When the lights go out)

Everyone loves a drama
Everyone loves the drama:.]






LABELS SHMABLES...BE HAPPY WITH JUST PLAIN BEING YOU!

i dont like the idea of judging people although i do anyway....but its a natural thing to do, we all do it without realising...although i dont generally judge someone until i get to know them in some way!






[The world wouldn't turn without you;
breathing its air, I'd take you anywhere.
For once this is one of those dreams
that I can spare, but you'd rather spare me.
Now I see the truth in your eyes.
This time it will be forever.
I'll trust you if you'll just trust me.
Tell me what you're looking for.
Now I see the truth in your eyes.
This time it will be forever.
I'll trust you if you'll just trust me.
If this isn't what you wanted, then tell me what is.
Tell me..]

[

I'd take a bullet for u....you'd put a bullet through me!

]


Wh@t'S Cr@Ck3N, Mc Cr@Ck3N?


I love Bert.....i think he has a kick ass attitude even if he is a little too cocky....
"Small simple safe price,
rise the wake and cary me with all of my regrets,
this is not a small cut thats scabs, and dries and flakes and heals,
and i am not afraid to die,
im not afraid to bleed and fuck and fight,
i want the pain of payment, whats left but a section of pigme size cuts,
much like a slew of a thousand unwanted fucks,
would you be my little cut? would u be my thousand fucks?
and make mark leaving space for the guilt to be liquid, to fill and spill over and under my thoughts,
my sad selfish cry out to the gutter,
im cutting trying to picture your black broken heart,
love is not like anything... especially a fucking knife!"
-----------------------------------------------

[stop my breathing and slit my throat
i must be emo***!!!
i don't jump around when i go to shows
i must be emo***!!!
dye in my hair and polish on my toes
i must be emo***!!!
i play guitar and write suicide notes
i must be emo***!!!]


----------------------------------------------------------------------------------


Pale Kids fucking rock!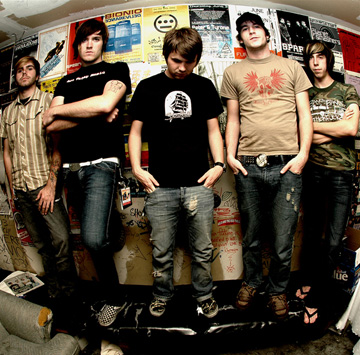 Bands- (hmmm lets hope i dont leave any out...that would be sad sad sad...)

Dating Delilah <3 <3 <3
Blinded Black
Silverstein
Nirvana
Slipknot
The Red Jumpsuit Apparatus
Korn
Killswitch Engage
Avenged Sevenfold
Roses Are Red
Evaline
This Providence
Aiden
The Audition
God Or Julie
Easton
Cute Is What We Aim For
Afton
Alesana
Ambry
All Time Low
Accepting Silence
Drop Dead, Gorgeous
Allison's Hope
Inamere
A Heartwell Ending
Too Sorry For Apologies
June
Hawethorne Heights
The Used
From First To Last
Underoath
Action Action
From Autum to Ashes
Bullet for my Valentine
Son Of Dork
The Acadamy is...
School Boy Humor
Jonny Unite Us
Flee The Seen
Therefore I Am
Monochromatic
Keep in Touch
My Chemical Romance
Fallout Boy
Spoken
Greeley Estates
Senses Fail
Funeral For a Friend
Bleed The Dream
The Starting Line
And Then I Turned 7
Thursday
Armor For Sleep
Eighteen Visions
Bayside (R.I.P- John "Beatz" Holohan)
A Static Lullaby
HIM
The Black Maria
Finch
The Rasmus
The Hot Lies
AFI
The Subways
Fightstar
Brigade
The Juliana Theory
Four Days Away
My Former Self
Time Will Tell
A Cutthroat kiss
MatchBook Romance
Taking Back Sunday
Coretta Scott
Panic! at the disco
Disciple
Aphasia
Atreyu
Hawk Nelson
The Bleeding Alarm
Just Surrender
A Change of Pace
Hidden In Plain View
End of Fashion
[

Mere Theory

] (check em out, dey make aussie music sound good!)
[

The Getaway Plan

] (Check dem out too, they're aussie and fuckin awesome!)
Papa Roach
Heart-set Self Destruct
Emery
My American Heart
The Fall of Troy
The Cure
Kisschasey
Good Charlotte
Blink 182
Ashlee Simpson
All American Rejects
Lost Prophets
Three Days Grace
Seether
Silverchair
(there are probably more...i just cant think of them right now)




[how romantic this has become.
typical teenage drama; guy breaks up w/ girl for all the right reasons. for all the rhyme and reason.
girl breaks guys heart and destroys his life]



THE 10 COMMANDMENTS OF A CHEMICAL ROMANCE:

1. Thou shall not put a gun to thy lover's head.
2. Thou shall be willing to die for love.
3. Thou shall seek revenge on those who wrong you
4. Thou shall be a demolition lover
5. Thou shall unleash the bats
6. Thou shall protect thy lover from everything (even vampires)
7. Thou shall respect the lord, Gerard.
8. Thou shall sing the holy hymns of the chemical romance
9. Thou shall see beauty in bloody love.
10. Thou shall rock hard

well im guessing not many people will read this all the way through so im gonna write the boring stuff here....

I have blonde hair (which is soon to have black and red streaks put through it)
Brown eyes
My favourite shirt at the moment is my The Used shirt...it kicks ass!
i will try and get an update pic of me on here as soon as i get me hair dyed...not that u would want to be a victim of my horrible looks...lol




[

Im a Drama Princess...and im way more fucking Dramatic than you!

]

As she stared into the night was the castle dressed in white
Behind her virgin eyes the mirror image of her plague
And darkness overcame until she screamed alone in vain
Oh how lovely as she gasps, yet so innocently sleeping
And forever she will haunt, now manifest this disease
The misfortune of the weak, Ill tell you what it is
Walk down these tragic steps
Disappearing with no trace, nothing left
This was the perfect murder
The perfect murder
In the ballroom with a glass, remembering it all at last
The memory of her first kiss led to a series of unfortunate events
She'll dance to the sound of the clock striking twelve






(how can u not love Sonny Moore? How can u not love his wtf?! face?)







--------------------------------------------


[All you better-thans that fed us shit,
Will be knocked on the floor,
So don't you place your bets just yet
All you treasure sleepers feed on shit,
You'll be knocked on the floor,
So don't you place...]

I'll be your Romeo. You'll be my Juliet.
You'll be so beautiful, So charming.
Lying dead in my room. I lost touch with my hand,
And the knife in your back. Short story this tragic ending,
The missing link in the chain of events,
That have occured gravely throughout the years.
You will not die with me.





<b>

It FeElS JuSt LiKe MaKiNg LoVe To ThE CaMeRa...



Missing: </b>
Missing: </center>