---
My Tattoo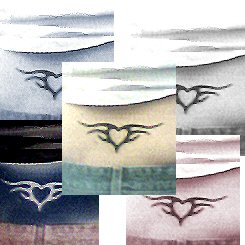 ---
TO PLAY I NEVER.
PUT AN (x) IN FRONT OF THE THINGS THAT YOU HAVE NEVER DONE BEFORE
AND A (_) ON THE THINGS THAT YOU HAVE DONE AT LEAST ONCE. ADD AN "I NEVER" OF YOUR OWN.
I NEVER
(_) I NEVER HAVE BEEN DRUNK
(_) I NEVER HAVE SMOKED POT
(_) I NEVER HAVE KISSED A MEMBER OF THE OPPOSITE SEX
(_) I NEVER HAVE KISSED A MEMBER OF THE SAME SEX
(x) I NEVER CRASHED A FRIEND'S CAR
(X) I NEVER BEEN TO JAPAN
(_) I NEVER RODE IN A TAXI
(_) I NEVER HAD ANAL SEX
(_) I NEVER HAVE BEEN IN LOVE
(_) I NEVER HAD SEX
(_) I NEVER HAVE HAD SEX IN PUBLIC
(_) I NEVER HAVE BEEN DUMPED
(_) I NEVER SHOPLIFTED
(_) I NEVER HAVE BEEN FIRED
(_) I NEVER BEEN IN A FIST FIGHT
(_) I NEVER HAD A THREESOME
(_) I NEVER BEEN SNUCK OUT OF MY PARENT'S HOUSE
(_) I NEVER BEEN TIED UP (SEXUALLY)
(x) I NEVER BEEN CAUGHT MASTURBATING
(x) I NEVER PISSED ON MYSELF
(_) I NEVER HAD SEX WITH A MEMBER OF THE SAME SEX
(x) I NEVER BEEN ARRESTED
(_) I NEVER MADE OUT WITH A STRANGER
(x) I NEVER STOLE SOMETHING FROM MY JOB
(x) I NEVER WENT ON A BLIND DATE
(_) I NEVER LIED TO A FRIEND
(_) I NEVER HAD A CRUSH ON A TEACHER
(_) I NEVER SKIPPED SCHOOL
(x) I NEVER SLEPT WITH A CO-WORKER
(X) I NEVER BEEN SKYDIVING
(x) I NEVER HAVE BEEN DUMPSTER DIVING
(x) I NEVER WALKED IN ON FRIENDS HAVING SEX
(x) I NEVER WALKED IN ON MY PARENTS HAVING SEX
(_) I NEVER HAVE BEEN CAUGHT HAVING SEX
(_) I NEVER LIED JUST TO COVER MY OWN ASS
(_) I NEVER CUT SOMEONE AND MADE THEM BLEED
(x)I NEVER TOLD SOMEONE I LOVED THEM JUST TO MAKE ME OR THEM FEEL BETTER OR LIED ABOUT LOVEING SOMEONE PERIOD
(x) I NEVER EGGED A RANDOM CAR
(x) I NEVER BEEN TO A DIFFERENT COUNTRY
(_) I NEVER BEEN IN THE BACKSEAT OF A POLICE CAR
(x) I NEVER EGGED A RANDOM HOUSE
(_) I NEVER BEEN EXPELLED/SUSPE
NDED
(x) I NEVER CHEATED ON MY BOYFRIEND/GIRLFRIEND
(x) I NEVER FLED THE AUTHORITIES OF A FORIEN LAND
(x) I NEVER HAD SEX ON A BUS
(x) I NEVER MADE A BOMB THREAT


---

Cattel 16 Factor Test Results

Warmth |||||||||||||||||||||||||||| 82%
Intellect ||||||||||||||||||||| 70%
Emotional Stability |||||||||||| 38%
Aggressiveness |||||| 18%
Liveliness ||||||||||||||||||||| 62%
Dutifulness ||||||||| 22%
Social Assertiveness ||||||||||||||| 46%
Sensitivity |||||||||||||||||||||||||||| 86%
Paranoia ||||||||||||||||||||| 70%
Abstractness ||||||||||||||| 42%
Introversion |||||||||||||||||||||||||||| 86%
Anxiety |||||||||||||||||||||||||||| 90%
Openmindedness |||||||||||||||||||||||| 74%
Independence ||||||||||||||| 42%
Perfectionism |||||||||||||||||| 54%
Tension |||||||||||||||||||||||| 78%

My own addition
Pervertedness lllllllllllllllllllllllllllllllllllllllllllllllllllllllllllllllllll 1,000,000,000,000%



001: Name:Rebecca
002: Nickname:Becky or Pyro
003: Country of living:USA
004: Birthdate: june 24
005: Length: 5'6.5
006: Eye color: blue/green
007: Shoesize:8
008: School/work:both lol
009: You smoke: nope
010: Hobbies: Photography, Gutair and Welding
011: Brothers/Sisters:3 brothers and a sister
012: Relationship: Single
013: Piercing(s): My ears and ummm Well my belly as of friday!!!
014: Tattoo: Yes on my lower back soon to have another
015: Fave Country to go to: none
016: Are there people you wont reply to?: preps
017: Nicest person you met this year: None lol
018: Person you rather not have met this year: Ex
019: Who would you like to meet: god
020: Who do you admire most: [Darmar] hes had more guts than i ever could
021: Most sexy person(s):Josh Todd
022: Favorite Pyama: a shirt
023: Favorite Car: Dodge Viper
024: Favorite Movie(s): City of Angels
025: Favorite music: rock/punk
026: Favorite City(s): none
027: Favorite Plush: my teddy bear
029: Favorite Magazine:none
030: Favorite sound: rain on glass
031: Favorite TV-series: Fringe
032: Favorite Writer: Sandra Brown
033: Favorite Nickname: PUSS-N-BOOTS
034: What is on your mousepad: my mouse
035: What is under your bed: to much stuff
036: Favorite color:silver...blue
037: Favorite Song ever: "iris" by goo goo dolls or there song "Acoustic #3"
038: Favorite song at this moment: Frankie J "obsession"
039: Favorite food:none
040: Favorite class in school:Welding
041: Favorite drink: anything alcoholic
042: Lucky number: 24
043: What do you think is greatest about yourself: ummmmmmmm
044: What deodorant do you use:anything that smells pretty
045: Favorite shoes:black spikeys with strappys
046: What time do you go to bed on weekdays: whenever i feel like it
047: What word do you use most: hurt
048: Most romantic moment in your life: None
049: Most embarassing moment in your life: too many you dont need to know about
050: You spend your time rather inside or outside: outside at night
051: What do you do on the weekends: Hangout
052: What class in school do/did you dislike most:History
053: Your Breakfast: none
054: What do you really really dislike to eat: Mango
055: Pets:none
056: Laugh or dream:dream
057: Serious or funny: serious
058: Fast or slow: im fast i like slower people
059: You prefer being alone or have relation: have a relationship
060: Simple or complicated?:me im complicated but i prefer simple
061: Cremate or Buried when dead:hmmm i dont care ill be dead
062: Sex or alcohol: sex
063: Stay up late or go to bed early: all night
064: Light or dark?: dark
065: Speak or Silence: both
066: Tall or small man/woman:Medium
067: News paper: no
068: Hug or kiss:both
069: Happy or Sad: i like happy but im usually sad
070: Life or Death:life
071: Gig or Disco: gig
072: Left or Right: right
073: Sausages on top, or on the side:hmm in the middle
074: Dark/ red/ Blonde:dark....*growls*
075: What would you ask God if you could ask him 1 single question: why?
076: You believe in reincarnation:maybe
077: You believe in Aliens: maybe
078: When you die, what will be your last words?: Live life
079: Does true love exist: yes i believe it dose
080: How many kids would you like to have: as many as my partner wants at least two though
081: What is the one thing you can't stand: someone not caring
082: Best feeling: being loved
083: Worst feeling in the world: lonliness
084: What are you afraid of: spiders
085: Are you an emotional person: yes
086: Do you ever cry during a movie: yes armageddon
087: Your goal in life: to love agian
088: What was the promise you made to yourself at new years eve:...not to try and kill myself------broke it
089: Favorite art-artist:van gogh
090: As what animal would you like to reincarnate: a panther
091: What is the most beautiful part on the male body: the shoulder and stomach
092: Most original place to ask your love to marry you: IDK
093: What do you think of Elftown: its cool
094: Is there something you miss about elftown: naw
095: Where did you get this question list: stole it from [

MajinBu

] Marco
096: Besides elftown, what do you do most on your PC: game and chat
097: Is there a question you missed in this at all: hell if i know
098: Is there a God?:i think
099: How many times have you fallen in love?: Just enough
100: Die young or grow old?:grow old
101: Afraid of death?: hell no
102: What are you afraid of?: spiders
103: Have you ever had sex?: yes...but i wish it wouldnt have been that way
104: What is your shilouette race?


105: How much are you worth? You are worth exactly: $1,868,122.00.
link: www.humanforsale.com
106: Which level of hell will you go too?
[

THE SEVENTH LEVEL

]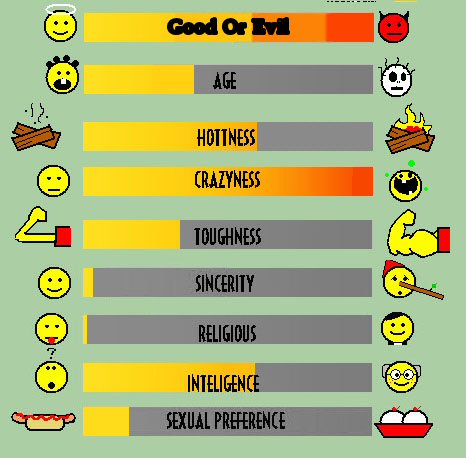 I stole it from someone and changed it to me...but so you know who the true artist is. [top gun]