Kayleigh Brooke
(Tired, Bored, and all that in between

)
Email: kaykay_813@hotmail.com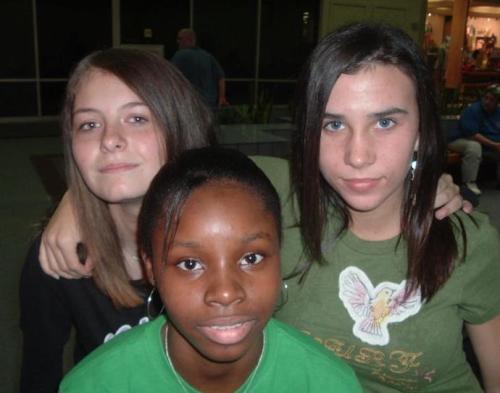 Me, Keisha, and Haley =-]
Description:
I'm Kayleigh. I'm 14//freshman at MNHHS.
I'm a pretty random person.
Some people think I'm shy. I may seem that way when you first meet me, but then I gradually open up.
[

I don't drink soft drinks.

] I had a weird obsession with chocolate milk, but that has died down. Haha.
I love soccer and baseball. SL Cardinals!
I love taking pictures, just not of myself. I am one of the most un-photogenic people ever.
I'm a pretty competitive person. I hate to lose.
I'm a leader, not a follower.
I must say I listen to some pretty awesome music. Most of my friends don't listen to my music, it's a shame.
I want to play [

guitar.♥

]
The only thing that really gets on my nerves is when people spell things wrong. For instance, my name. Yeah, I know it breaks a rule of grammar. Just don't spell it Kayliegh. Thanks. :)
I am a BIG Harry Potter nerd. Quiz me on it, and I am bound to get it right.
I love the colors black and blue. I absolutely despise the color PINK.
My friends are super rad.
Haley and I are the original rad though. Be jealous.
I love [

thunderstorms

]. Especially walking in them. Haha. ((brittanyyyy))
I love reading. Most people despise it beyond reason, but I seriously do not see what is so bad about it.
I'm open-minded.
I do like to tell it like it is, though.
[

I'm sarcastic

].
Drama sucks.
The O.C. is the greatest. I am madly in love with Seth Cohen. ((haha))
My birthday is August 13th.. just thought you might want to know.
I think I'm short.
I'm insecure.. just a tad.
I like meeting new people. Talk to me on AIM--kayleighbrooke12

30 Seconds to Mars
The Academy Is..
Action Action
Across Five Aprils
Adam and Andrew!
AFI
alexisonfire
The All American Rejects
[

Allister<3

]
Amber Pacific
Ambulance LTD
Anberlin
The Arcade Fire
Armor For Sleep
A Static Lullaby
The Ataris
Atreyu
[

At The Drive-In

]
Bear Vs. Shark
Ben Harper
Between Home and Serenity
Bleeding Through
Blink 182
[

Bloc Party

]
Bloodhound Gang
Boys Night Out
[

Brand New

]
Brazil
Bright Eyes
Box car Racer
Cherry Monroe
Chevelle
Chiodos
Circa Survive
Clap Your Hands Say Yeah
Coheed and Cambria
Comeback Kid
Cursive
Daphne Loves Derby
Dashboard Confessional
Death Cab For Cutie
The Decemberists
Dropkick Murphys
Drowning Pool
[

The Early November

]
Emanuel
Emery
The Faint
The Fiery Furnaces
Finch
The Flaming Lips
Flyleaf
Foo Fighters
Franz Ferdinand
freezepop
From Autumn To Ashes
From First To Last
Further Seems Forever
The Futureheads
Garbage
Goldfinger
Goo Goo Dolls
Gratitude
Green Day (old stuff)
Halifax
Harry and the Potters
Hellogoodbye
The Hidden Cameras
Hidden In Plain View
[

The Hives

]
[

The Honorary Title

]
Hot Hot Heat
Interpol
Jack's Mannequin
Jamison Parker
Jimmy Eat World
Jimmy Wayne
The Killers
Kings of Leon
le tigre
[

The Libertines

]
Lorene Drive
Madison
Mae
[

The Mars Volta

]
Matchbook Romance
[

Midtown

]
Minus The Bear
[

Modest Mouse

]
Motion City Soundtrack
My American Heart
My Chemical Romance
Name Taken
Nightmare of You
Nine Inch Nails
Nirvana
Norma Jean
No Use For A Name
Oasis
The Offspring
[samantha louise!]
Phantom Planet
Pinback
Plain White T's
The Postal Service
Punchline
Queens Of The Stone Age
Radiohead
The Ramones
Red Hot Chili Peppers
Reggie And The Full Effect
Relient K
Rilo Kiley
Rise Against
The Rocket Summer
Rooney
Rufio
Saosin
Saves The Day
Scary Kids Scaring Kids
Schoolyard Heroes
Silverstein
Smoke or Fire
Something Corporate
The Starting Line
Story Of The Year
Straylight Run
The Strokes
Sublime
Sugarcult
Sum 41
System Of A Down
Taking Back Sunday
Tenacious D
Third Eye Blind
Thrice
[

Tilly and the Wall

]
Torpedo
Thursday
Underoath
Unwritten Law
The Used
Weezer
Weird Al Yankovic
The White Stripes
[

Wilco

]
Many More
<br><p>
The Hottest Guy..
EVER
Adam Brody!!
| | | | |
| --- | --- | --- | --- |
| Age: 14 | Year of birth: 1991 | Month of birth: 8 | Day of birth: 13 |
Place of living:
USA-Kentucky
Music
alternative
grunge
heavy metal
punk
rock
Other interests
animals
card games
chasing the preferred sex
party
shopping
theatre
watching sport
Sexual preference:
opposite sex