Random Crap
My names Joni. Im 15 and sitting all my exams just now. I love the rocky horror picture show!!It's amazing and i watch it all the time. My best friend is fieldy then its probably Ryan then Darren. I like when random people talk to me =] dont know why its just fun Yeah i have myspace so....
www.myspace.com/strokefan
i mostly just add anyone but if you dont return comments i delete them. I love friday nights with fieldy when we share cigarrettes all night and then piss ourselves laughing at the bus stop. I <3 the bus stop outside Allstars s many memories. People refer to me as
emo
because i wear tight black skinny jeans, grey skinny jeans, white skinny jeans and pink skinny jeans and i own 2 pairs of convers and 3 pairs of vans but i
fucking
hate that word with a vengance it is soo overrated. I listen to the rocky horror picture show soundtracks when i am sad and sex pistols when im happy. I effin <3 strawberry ice-cream especially when i get head-rush. x
The Likes
./music♥
./talking♥
./obsessions♥
./studs♥
./fieldy♥
./hair dye♥
./foam parties♥
./my straighteners♥
./acting like a retard♥
./cameras♥
./my phone♥
./gettin my pic taken♥
./grey jumpers♥
./twisted sister♥
./glitter♥
./green hair♥
./sexy people♥
./myspace♥
./snails♥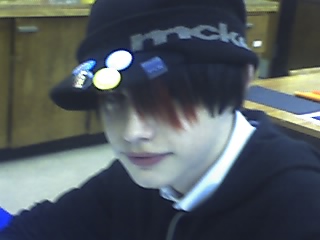 Ryan my best friend.x.
○The Music○
.[

/x.AFI.x\

].
.aiden.
.|.Billy Talent.|.
bullet [

f○r

] my [

valenitne

]
~bl○ndie~
clash
dead [

kennedys

]
deathstars
dirty.pretty.things
/..Evanescence..\
Fall/Out\b○y
f○○ fighters
/.+.\fr○m first t○ last/.+.\
franz♥ ferdinand
.#.Freddie Mercuary.#.
g○○d /+\ charl○tte
hammerfall
Hawth○rne [

Heights

]
/him\
ir○n♥ maiden
-_-Kids in Glãss H○uses-_-
..|kiŁŁ Hãnnãh|..
La..Bi○nda
ŁibeRtines
l○st♥ pr○phets
.:marilyn.mans○n:.
metallica
\..MCR../
milburn
*nirvana*
[

♣

]nightwish[

♣

]
-:-NIN-:-
~papa r○ach~
Panic[

!

]atd
...placeb○...
pr○digy
pink [

fl○yd

]
/*rammstein*\
r○b♥ z○mbie
|♥ seether♥| 
S.O.A.D
sex [

pist○ls

]
simple♥ plan
the♥ str○kes
//the darkness\\
|+the h○rr○rs+|
the♥ undert○nes
the [

vines

]
the♥ darkness
tenaci○us [

d

]
twisted♥ sister
-Trivium-
Wheetus
Jimmy..more quiet.x.
QUIZZ
♥ If you had me for an hour what would you do?
♥ If you could buy me one thing what would it be?
♥What would you do if i told you i loved you?
♥What would you do if i turned up to your door early hours in the morning, make-up running and standing crying?
♥if you could do 1 thing to me what would it be?
♥would you ever sing me to sleep if so what song ?
♥ Perfume/Jewell
ry or Fluffy handcuffs what would you give me out of the 3?

♥ If you could take me somewhere where would it be?

♥ Whats the most you would do for me?