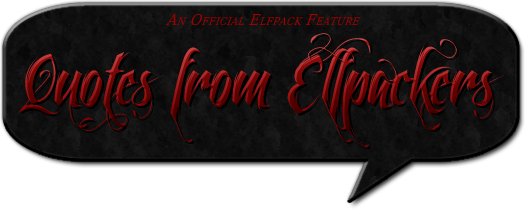 Elfpacker Quotes 7
Page closed. Winner chosen!
Feel free to submit your quotes here. Make sure to read the Quoting Rules before submitting!
Please add your username after each quote, and place an <hr> line at the end of your submissions.


Featured Quote 7
"Oh, shut up and rust" -Edward Elric, "The Fullmetal Alchemist"
Submitted By: [Chilla]
"Lost love is still love. It takes a different form, that's all. You can't see their smile or bring them food or tousle their hair or move them around a dance floor. But when those senses weaken, another heightens. Memory becomes your partner. You nurture it. You hold it. You dance with it."
-Marguerite to Eddie, Five People You Meet in Heaven, Mitch Albom
"Crazy is better than boring." -Me!
[
Corsair
]
---
"Being dead is like being alive, only worse!" -myself, thank you
[
GlassCasket
]
---
"Is there any chance of me getting some freakin' service around here!?!?" - Chris Farely
[
MadHatress
]
---
"Ok, how about this? If we come back in one peice I'll let you touch my paw...c'mon its really soft."-Pakkon from Naruto the anime talking to Shikamaru. - [
Orochimaru
]
---
"Oh, shut up and rust"
Edward Elric "The Fullmetal Alchemist" - [
Chilla
]
---
"Walk through life with an eraser handy for there'll be mistakes made along the way." -self-quote - [
Faith.Hope.Love
]
---
"I really liked the last number?"
"Why?"
"Because it was the LAST number."
- Statler and Waldorf, Muppet Show
[
Ringbearer
]
---
Voting:
840) New quote? Whatcher think?! (No administrator)
Number of voters: 13
a) "Crazy is better than boring." -Self Quote, Submitter: [Corsair]
Number of votes: 2 (15%) Voters: [DragonicTunes], [Faith.Hope.Love]

b) "Being dead is like being alive, only worse!" -Self Quote, Submitter: [GlassCasket]
Number of votes: 1 (8%) Voters: [hytrjuhytjhgjg]

c) "Is there any chance of me getting some freakin' service around here!?!?" -Chris Farely, Submitter: [MadHatress]
Number of votes: 2 (15%) Voters: [Fallen dreams], [My Sky's The Limit]

d) "Ok, how about this? If we come back in one peice I'll let you touch my paw...c'mon its really soft."-Pakkon from Naruto, [Orochimaru]
Number of votes: 2 (15%) Voters: [Pandora♥xcore], [Orochimaru]

e) "Oh, shut up and rust" -Edward Elric, "The Fullmetal Alchemist," Submitter: [Chilla]
Number of votes: 3 (23%) Voters: [Sigyn, The Faithful Wife], [Sonya Blue], [Eyes of the Reaper]

f) "Walk through life with an eraser handy for there'll be mistakes made along the way." -Self Quote, Submitter: [Faith.Hope.Love]
Number of votes: 2 (15%) Voters: [itweetinHEELS], [asdfghjkl;]

g) "I really liked the last number?"--"Why?"--"Because it was the LAST number." -Statler and Waldorf, Muppet Show, Submitter: [Ringbearer]
Number of votes: 1 (8%) Voters: [Ringbearer]