Page name:
Elfpacker Quotes 6
[Logged in view]
[RSS]
2007-10-29 22:27:45
| | | |
| --- | --- | --- |
| # of watchers: 8 | Fans: 0 | D20: 18 |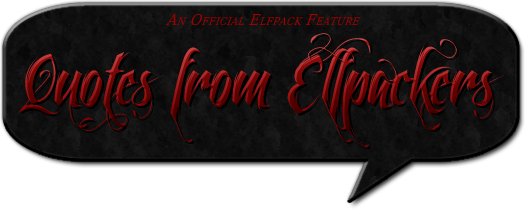 Elfpacker Quotes 6
Page closed. Winner chosen!
Feel free to submit your quotes here. Make sure to read the Quoting Rules before submitting!
Please add your username after each quote, and place an <hr> line at the end of your submissions.
Featured Quote 6
"Stupidity is doing something dumb because you don't know better; courage is doing something dumb because your only other option is losing." -[petrie000]
Submitted by: [Eyes of the Reaper]
"A man can be an artist... in anything, food, whatever. It depends on how good he is at it. Creasey's art is death. He's about to paint his masterpiece." -Rayburn, Man on Fire
"Those who make peaceful revolution impossible will make violent revolution inevitable." -John F. Kennedy
"Speak few words, but say them with quietude and sincerity, and they will be long lasting, for a raging wind cannot blow all morning, nor a sudden rainstorm last throughout the day." -Lao Tzu
[
Corsair
]
---
In negotiations, never point with a loaded gun... but do have it ready at your side.
"Evil will always winbecause good is dumb."
Dark Helmet, Spaceballs
"On the internet, a man is a man, a woman is a woman, and a little girl is an FBI agent."
[
Ringbearer
]
---
I used to have an open mind but my brains kept falling out.
:3 [
kittykittykitty
]
Do everything with so much love in your heart that you would never want to do it any other way.
~Yogi Amrit Desai
[
kittykittykitty
]
---
"Stronger than i was yesterday!"-Te
am 9/Gai Naruto shippuden.
[Orochimaru]


---


"Dont humble yourself. Your not that great."
~[dark kitty in big trouble]


---


"Stupidity is doing something dumb because you don't know better; courage is doing something dumb because your only other option is losing." - [petrie000]
Submitted by: [Eyes of the Reaper]

"Enemy--tastes like salsa!" - Self Quote
Submitted by: [Eyes of the Reaper]


---


When, to the face of a friend, I bring a smile,
It makes 'our' day, so worthwhile! - Self Quote
Submitted by: [Faith.Hope.Love]


---


"Oh yes sir, Snotty beamed me twice last night. It was wonderful."
Spaceballs
[Madkat]


---
Voting:
833) Which quote will be our winner?! (No administrator)
Number of voters: 14
a) "Those who make peaceful revolution impossible will make violent revolution inevitable." -John F. Kennedy, Sourcer: [Corsair]
Number of votes: 2 (14%)

b) "On the internet, a man is a man, a woman is a woman, and a little girl is an FBI agent." Sourcer: [Ringbearer]
Number of votes: 4 (29%)

c) "I used to have an open mind but my brains kept falling out." Sourcer: [kittykittykitty]
Number of votes: 0 (0%)

d) "Stronger than i was yesterday!"-Team 9/Gai Naruto shippuden, Sourcer: [Orochimaru]
Number of votes: 0 (0%)

e) "Dont humble yourself. Your not that great." Sourcer: [dark kitty in big trouble]
Number of votes: 0 (0%)

f) "Stupidity is doing something dumb because you don't know better; courage is doing something dumb because your only other option is losing." -[petrie000], Sourcer: [Eyes of the Reaper]
Number of votes: 6 (43%)

g) "When, to the face of a friend, I bring a smile, It makes 'our' day, so worthwhile!" Sourcer: [Faith.Hope.Love]
Number of votes: 1 (7%)

h) "Oh yes sir, Snotty beamed me twice last night. It was wonderful." -Spaceballs, Sourcer:[Madkat]
Number of votes: 1 (7%)



---
| | |
| --- | --- |
| | Show these comments on your site |