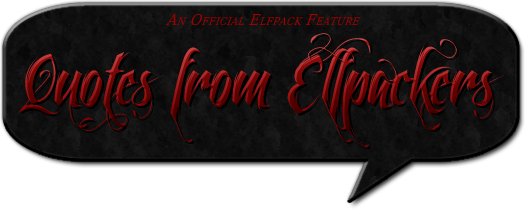 Elfpacker Quotes 21
Vote over! New contest starts 8/15/09!!
Feel free to submit your quotes here. Make sure to read the Quoting Rules before submitting!
Please add your username after each quote, and place an <hr> line at the end of your submissions.
Place submissions here.
---
"There was a man,
who played the violin,
and the strings,
were the tendons in his own arm"
- The Crow graphic novel
[
Faeangel
]
---
"Worrying is like a rocking chair. It gives you something to do, but it doesn't get you anywhere." - Van Wilder(2002)
"Whoever said money can't buy happiness doesn't know where to shop." - Unknown
"It's only after we've lost everything that we're free to do anything." - Tyler Durden, Fight Club(1999)
[
evil flying zombie
]
---
"We all need mirrors to remind ourselves who we are. I'm no different." -Guy Pierce, Memento(2000)
[
ThatOneGuyJeff
]
---
"They must find it difficult, those who have taken authority as the truth. Rather than the truth as authority." - G. Massey. Submitted by [
UV-Reactive*
]
---
"The moments we share with the people in our lives make them all the more special to us, and to love someone is to accept the heartache of a goodbye exhange for those precious moments."
~ In a Subeta item description

[
kittykittykitty
]
---
"There is no pain like that of desire, is their no difference between women and fire? one burns the heart, the other, the flesh...is sex worth the price of certain death?
Peter Steele (Type O Negative)
[
The Lost Boy
]
---
"Diplomacy isnt about threats with guns.... its all about keeping a loaded gun at your side."
"Well, Baldrick, if you step on a landmine, permission to jump 10 feet in the air and scatter yourself all over the area." - Captain Edmund Blackadder.
[
Ringbearer
]
---
"What came first pre-historic or 16th century?" (unforunately me) [
Papa Don't Preach
]
Love like you've never been hurt before - anon [
Papa Don't Preach
]
---
"Love is a minefield. You take a step and get blown to pieces, put yourself back together again and stupidly take another step. I guess that's human nature. It hurts so much to be alone that we'd all rather blow up than be single." - Kate Welles (Famke Janssen) in Love & Sex (2000)
"Every mistake we make is just another opportunity for a second chance to take." - Myself
"Reality is something you rise above." - Liza Minnelli
[
Light. Among. Shadows.
]
---
if i could be anything i would be your tear drop so i could be born in your eyes, live on your cheeks, and die on your lips.-unknown [
twisted07
]
as if life isn't a game then why do we act upon life as a game.-me [
twisted07
]
---
"God will help you if you are an ugly girl, course too pretty is also your doom, cause everyone harbors a secret hatred for the prettiest girl in the room."
~Anonymous
"The search for love is like a blind man looking in a dark room for a black cat that was never there in the first place."
~Anonymous
[
Jayr
]
---
-Eventually all the pieces will fall into place, but until then, laugh at the confusion, live for the moment, and remember
EVERYTHING
happens for a reason.
-the best proof of love is trust.
[
kimberly ida.
]
---
"I'd rather hate you for everything that you are, then ever love you for something that you are not. I'd rather you'd hate me for everything that I am, then have you love me for something that I'm not..."
-Five Finger Death Punch, Never Enough
[
WeedMonster420
]
---
"It's what you've always wanted...With all my black little heart" -Marius and Lestat, Queen of the Damned. -[
MadHatress
]
---
"If you aim for nothing, your sure to hit. But if you reach for the stars, you'll at least touch the sky."-[
Orochimaru
] me lol.
Voting:
972) Whose quote will pwn them all?!?!?!?!?! (No administrator)
Number of voters: 25
a) "It's what you've always wanted...With all my black little heart" - Marius and Lestat, Queen of the Damned, Submitted by: [MadHatress]
Number of votes: 3 (12%) Voters: [Sonya Blue], [Orochimaru], [Ritsuka-Kun]

b) "Eventually all the pieces will fall into place, but until then, laugh at the confusion, live for the moment, and remember EVERYTHING happens for a reason." - Self Quote, Submitted by: [kimberly ida.]
Number of votes: 1 (4%) Voters: [Neurotic Obsession]

c) "The search for love is like a blind man looking in a dark room for a black cat that was never there in the first place." - Anonymous, Submitted by: [Jayr]
Number of votes: 3 (12%) Voters: [Jayr], [Product of a Primal Urge], [Zavier C.]

d) "Love is a minefield. You take a step and get blown to pieces, put yourself back together again and stupidly take another step. I guess that's human nature. It hurts so much to be alone that we'd all rather blow up than be single." - Kate Welles (Famke Janssen) (2000), Submitted by: [Light. Among. Shadows.]
Number of votes: 2 (8%) Voters: [Light. Among. Shadows.], [thundrhawk90]

e) "Love like you've never been hurt before." - Anonymous, Submitted by: [Papa Don't Preach]
Number of votes: 1 (4%) Voters: [Papa Don't Preach]

f) "Diplomacy isnt about threats with guns.... its all about keeping a loaded gun at your side." - Self quote, Submitted by: [Ringbearer]
Number of votes: 1 (4%) Voters: [Ringbearer]

g) "The moments we share with the people in our lives make them all the more special to us, and to love someone is to accept the heartache of a goodbye exhange for those precious moments." - In a Subeta item description, Submitted by: [kittykittykitty]
Number of votes: 1 (4%) Voters: [milller27]

h) "They must find it difficult, those who have taken authority as the truth. Rather than the truth as authority." - G. Massey, Submitted by [UV-Reactive*]
Number of votes: 4 (16%) Voters: [UV-Reactive*], [~*~Jessica Filth~*~], [♫ Jeni-Bugggg ♫], [DragonicTunes]

i) "Worrying is like a rocking chair. It gives you something to do, but it doesn't get you anywhere." - Van Wilder(2002), Submitted by: [evil flying zombie]
Number of votes: 7 (28%) Voters: [evil flying zombie], [ThatOneGuyJeff], [indie girl], [Frankis], [Fake smiles and Bittersweet kisses], [Onyi], [Lilly.]

j) "There was a man, who played the violin, and the strings, were the tendons in his own arm" - The Crow graphic novel, Submitted by: [Faeangel]
Number of votes: 2 (8%) Voters: [MadHatress], [Faeangel]

---


---