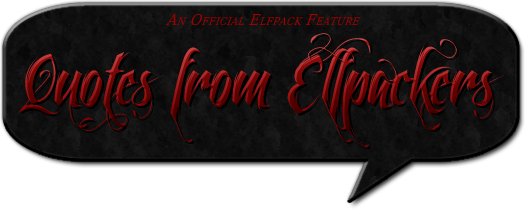 Elfpacker Quotes 10
Page closed! Winner chosen!
Feel free to submit your quotes here. Make sure to read the Quoting Rules before submitting!
Please add your username after each quote, and place an <hr> line at the end of your submissions.
Featured Quote 10
"The value of life lies not in the length of days, but in the use we make of them ..." - Michel de Montaigne, Submitted by: [Ł â Đ ŷ √IN Р ι п Ķ]
Submitted by [
Corsair
]
"Tricks and treachery are the practice of fools that don't have enough brains to be honest." --Benjamin Franklin
---
Submitted by [
-------
]
"Brian, there's a message in my cereal! It says "Ooo."
"Peter, those are Cheerios." -- Brian and Peter of Family Guy
"Women should be judged on what they look like compared to the person inside, not the girls in a Playboy magazine." -- Me
"If everyone was completely understood by everyone else, we'd have no originality. We'd all be the same, with the same views and opinions. Do you still want to be understood?" -- Me
---
Submitted by [
Ł â Đ ŷ √IN Р ι п Ķ
]
"The value of life lies not in the length of days, but in the use we make of them ..." - Michel de Montaigne
---
Submitted by [
Aileana
]
"People seldom become famous for what they say until after they are famous for what they've done." -Cullen Hightower
"Always remember others may hate you but those who hate you don't win unless you hate them. And then you destroy yourself." -Richard M. Nixon
"A loud voice cannot compete with a clear voice, even if it's a whisper." -Barry Neil Kaufman
---
Submitted by [
Deg
]
"Before you embark on a journey of revenge, dig two graves." -Confucius
"Talking much about oneself can also be a means to conceal oneself." -Nietzsche
"Fashion is a form of ugliness so intolerable that we have to alter it every six months." - Oscar Wilde
---
Voting:
857) Which quote pwns the rest? (No administrator)
Number of voters: 21
a) "Tricks and treachery are the practice of fools that don't have enough brains to be honest." --Benjamin Franklin, Submitted By: [Corsair]
Number of votes: 0 (0%)

b) "Brian, there's a message in my cereal! It says "Ooo." "Peter, those are Cheerios." -- Brian and Peter of Family Guy, Submitted by: [-------]
Number of votes: 4 (19%) Voters: [Sonya Blue], [-------], [phoenixborn], [Forever.x.Loved]

c) "The value of life lies not in the length of days, but in the use we make of them ..." - Michel de Montaigne, Submitted by: [Ł â Đ ŷ √IN Р ι п Ķ]
Number of votes: 11 (52%) Voters: [Ł â Đ ŷ √IN Р ι п Ķ], [happyguppy], [patrick.], [Jesse Marie :)], [itweetinHEELS], [darkfang], [Graham C], [deamon90002004], [My Sky's The Limit], [entire parenthesis], [«« F A I L;; to Lovę®]

d) "Always remember others may hate you but those who hate you don't win unless you hate them. And then you destroy yourself." -Richard M. Nixon, Submitted by: [Aileana]
Number of votes: 1 (5%) Voters: [Aileana]

e) "Before you embark on a journey of revenge, dig two graves." -Confucius, Submitted by: [Deg]
Number of votes: 5 (24%) Voters: [!unused!], [Neo the black cat], [Deg], [BlueRaven], [Raiyr]